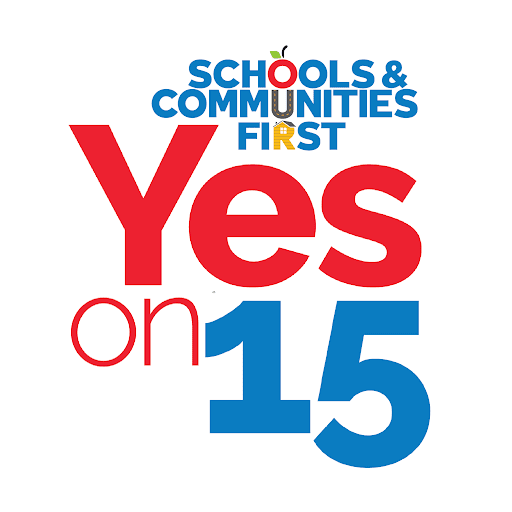 While the wealthiest corporations avoid paying their fair share, our schools have the most crowded classrooms in the nation and our local communities are struggling to respond to the impact of COVID. It's time to put Schools & Communities First by voting YES on Prop 15!
Prop 15 is a fair and balanced reform that:
Closes

 

property tax

 

loopholes benefiting wealthy

 

corporations.
Cuts small business taxes.
Reclaims billions every year

 

to invest in our schools and local communities.
Exempts homeowners, renters, small businesses

 

and agricultural land so they continue to be protected by Prop 13.
​Prioritizes

 

transparency and accountability

 

by requiring public disclosure of all new revenues and how they are spent.
Just 10% of California's most expensive nonresidential commercial properties account for 92% of Prop 15's loophole-closing revenues.  
No matter what we look like or where we come from most of us pitch in for each other and hope to leave things better off for those to come.
But today a handful of corporations undermine all of us. Corporations like Chevron, Google and Disney rake in record profits, while they refuse to contribute to the schools where our young people learn and other community services like health clinics and emergency responders. Then they divide us against each other by blaming Black and brown people for our problems, hoping we won't notice so they can continue to reap the benefits of our contributions while refusing to put in their share.
That's why we're supporting Prop 15 – the Schools and Communities First Initiative on the November 2020 ballot. When we vote it in, we will restore the resources we need for our communities by ensuring that everyone pitches in for each other in California, including the wealthiest corporations.
When everyone is all in for all of us, we make California a place we're proud to call home with the world-class schools and universities, healthcare, homes, and shared resources our families need. When we join together – white, Black, and brown – to change the rules, we'll restore the resources to truly educate all of our kids and truly support all of our families.
Prop 15 was put on the ballot by a record-breaking 1.7 million people who believe that wealthy corporations need to pay their fair share. Now it's time to vote it into law!