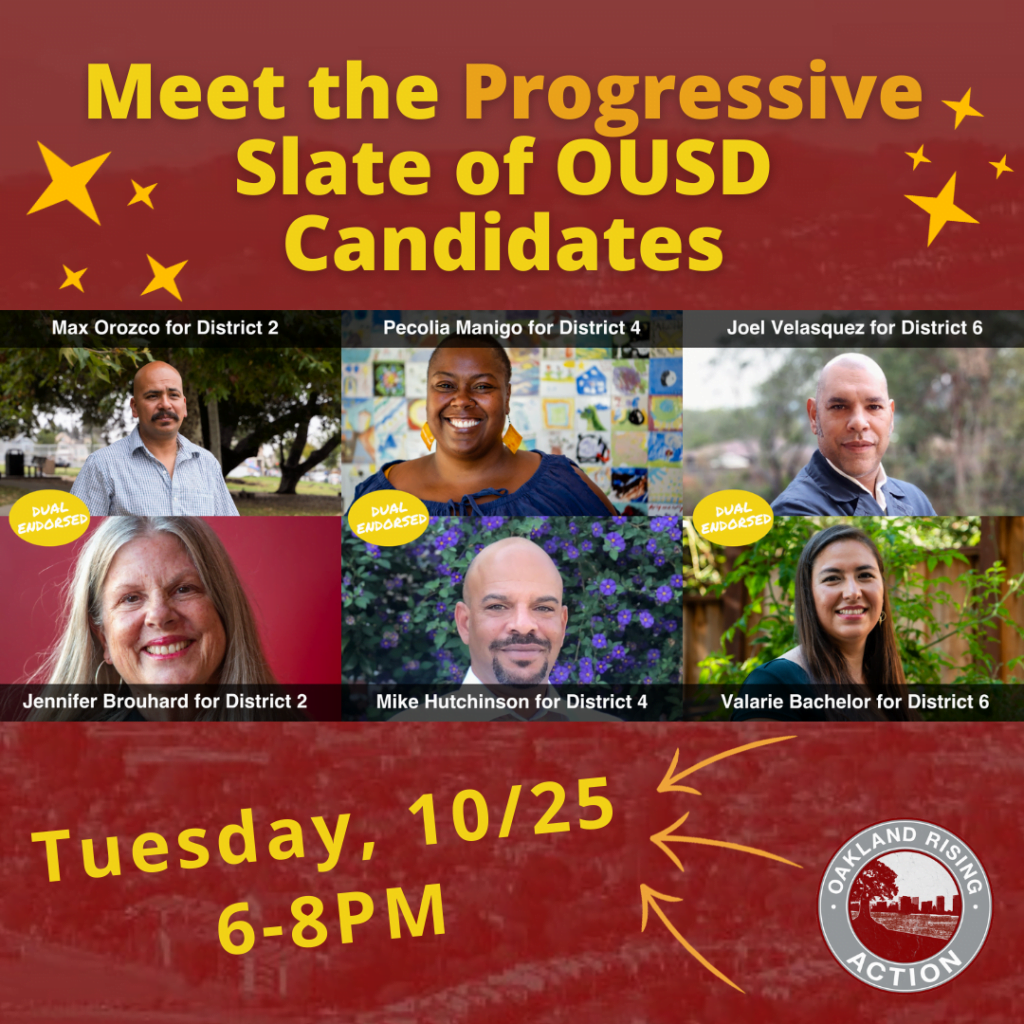 On Tuesday, October 25th from 6-8pm, you're invited to join "Changing the Future of OUSD," a OUSD Candidate Forum where you can meet the progressive slate of OUSD candidates.
There will be a roundtable talk about what the progressive vision for OUSD looks like with all of the ORA-endorsed candidates:
District 2: Max Orozco & Jennifer Brouhard (dual endorsement)
District 4: Pecolia Manigo & Mike Hutchinson (dual endorsement)
District 6: Joel Velasquez & Valarie Bachelor (dual endorsement)
Our Executive Director, liz suk, will moderate this in-person at Oakstop (1723 Broadway, Oakland, CA 94612). Masks are required at all times when not drinking or eating. Light snacks and refreshments will be provided. Register to save your spot or tune into our
Facebook
to livestream the event.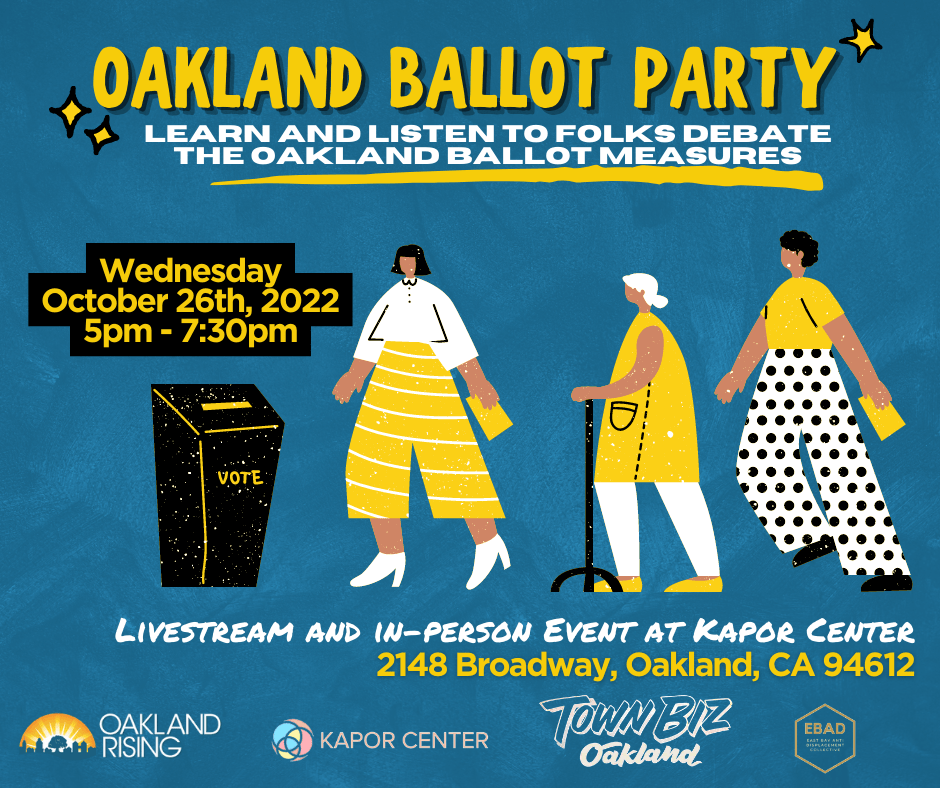 Fill out your ballot with friends over dinner and cocktails from Kingston 11! Our c3 sister organization, Oakland Rising, is co-hosting an Oakland Ballot Party with East Bay Anti-Displacement Collective, Town-Biz, and Kapor Center. Come out on Wednesday, October 26th from 5-7:30pm to learn and listen to folks debate the Oakland ballot measures with a roundtable with Chaney Turner, Rashida Chase, Charles Reed, and Oakland Rising's liz suk. Moderation by Lili Gangas of the Kapor Center. Watch the live-streamed event on Oakland Rising's Facebook or join in-person at the Kapor Center (2148 Broadway, Oakland, CA 94612). You won't wanna miss this fun event that includes interactive activities, sample ballots, dinner & drinks! Spots are limited and proof of vaccination or negative test proof is required to enter the Kapor Center. Masks are required when not eating or drinking.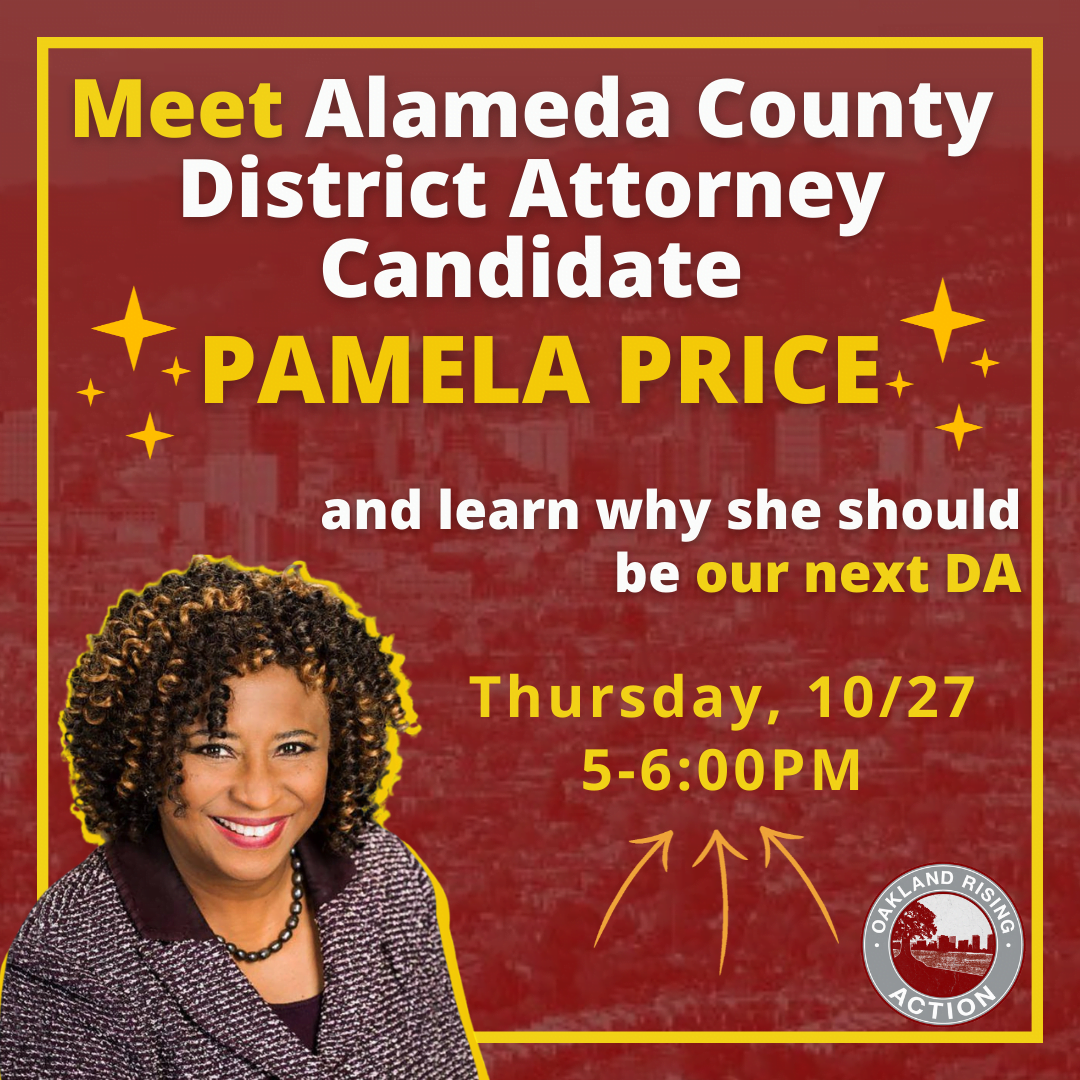 We're hosting an Alameda County DA Candidate Meet & Greet with Pamela Price on Thursday, October 27th from 5-6pm. Join us online or in-person to get to know Pamela Price and learn why she should be our next Alameda County District Attorney, moderated by liz suk. The event will be livestreamed on our Facebook and held in-person at Restore Oakland (1419 34th Avenue, Oakland, CA 94601). Light snacks and drinks will be provided, and masks are required when not eating and drinking.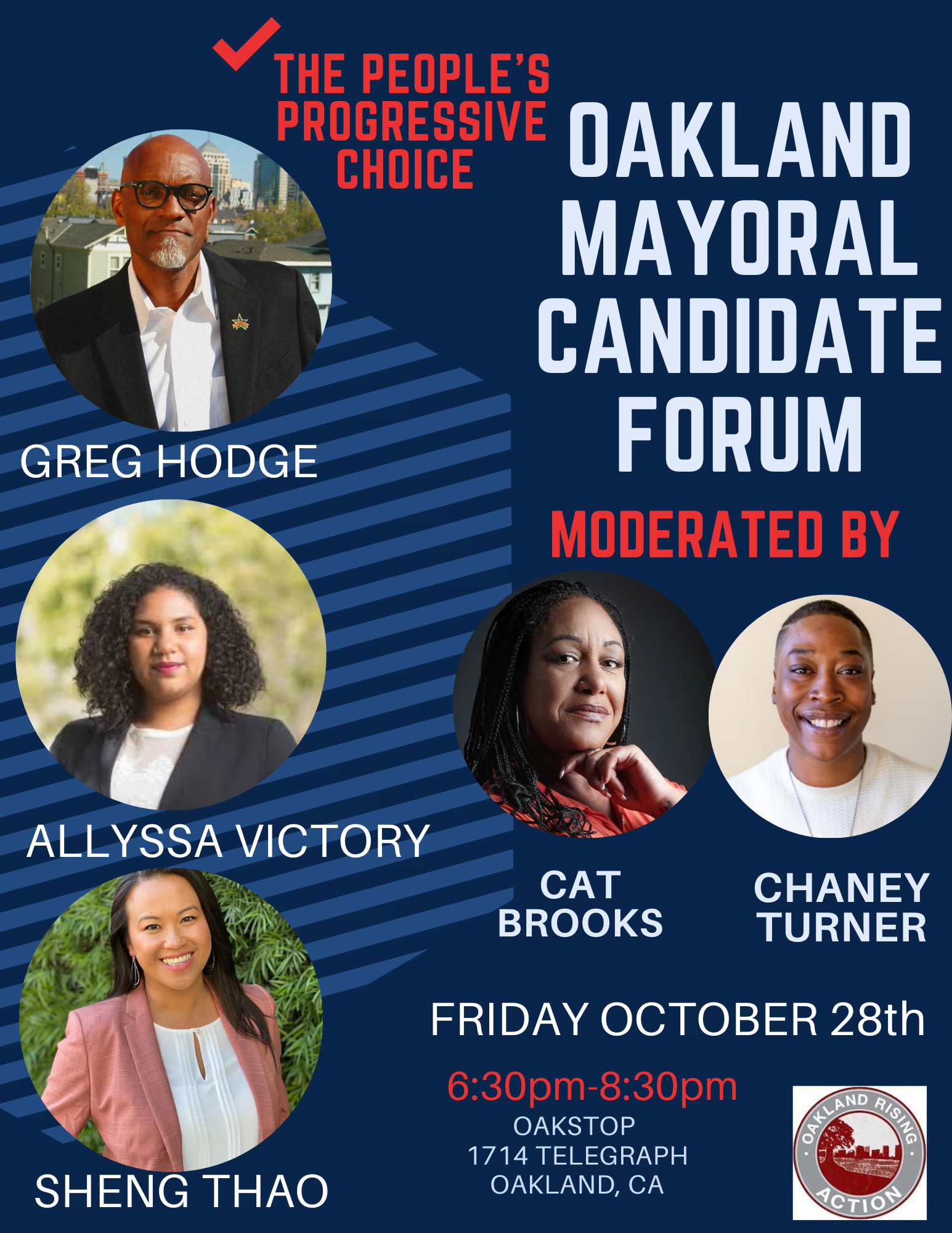 We're joining The People's Progressive Choice for an Oakland Mayoral Candidate Forum on Friday, October 28th from 6:30pm - 8:30pm at Oakstop (1714 Telegraph, Oakland, CA 94612). The forum will be moderated by Cat Brooks and Chaney Turner, and is the perfect opportunity for voters to get to know the progressive slate of mayoral candidates on the ballot and their platforms: Greg Hodge, Allyssa Victory, and Sheng Thao. If you can't attend the event in person, make sure to tap into our Facebook to livestream the event!