This has been a tough year, with many of us hoping yesterday's election would deliver a people's mandate for change and justice. Today we take a deep breath, remembering that it may take days or even weeks to know the final results of all the races. We have to be diligent about counting every vote and protecting democracy. We have been anticipating this wait, and we have been working on a plan.
Whatever outcomes we see from this election, we will continue to fight for justice, power, and systemic change – recognizing that elections are one of many tools towards our liberation. 
Today and in the days, months and years to come we will continue to take collective action to stand up for democracy, make sure every vote is counted, and strategize on building collective power for the long run. Here in Oakland, on unceded Ohlone Territory, across this state, and across this country, we will continue to build and organize our communities to put people before profits, care before cages, and dignity before destruction.
With all of that being said….THANK YOU to everyone who voted in the most historic election of our lives! Record numbers of young people, Black, Indigenous and people of color and first-time voters cast their votes in this election to move the Town, California, and the nation towards justice, by voting for bold, progressive leaders and policies that would bring the community resources we need for a truly just recovery.
We're ecstatic to see that Carroll Fife has a commanding lead in the District 3 City Council race. Fife, a values-driven, unapologetic advocate for our unhoused neighbors and long-time residents, proved once again that when we organize our base, we can win – even against an incumbent.
While many races are still too close to call as mail-in ballots are being counted and ranked choice voting will be applied to determine winners of several local seats, we are so proud of our work and clear wins including:
Measure Y:

 

Invests in students and the whole community by issuing bonds for repairs and upgrades to our schools
Measure W:

 

Funds mental health, housing and job training
Statewide results are requiring an extra dose of patience as well. With hundreds of thousands of votes left to be counted, we are holding onto hope that the landmark initiative, Prop 15 – Schools & Communities First, may still pass. After 10 years of educating voters around tax equity, we and our statewide partners mobilized voters from our most impacted communities around Prop 15, in hopes of bringing over $11 billion annually into our communities for K-12 education, community colleges, public health clinics, and more. Regardless of the final outcome, we are proud of our efforts here in Alameda County where a resounding two-thirds of voters casted YES votes for Prop 15.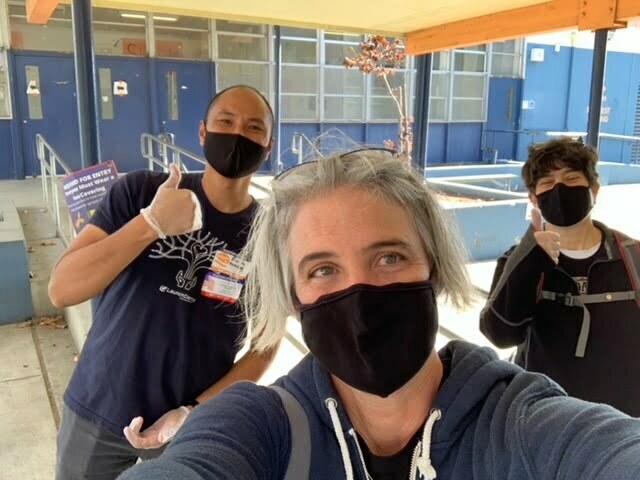 We are so grateful for the tireless work of our team of paid campaign outreach staff and crew of nearly 300 volunteers who together:
 – contacted over 8,101 voters;
 – identified over 7,112 of them as supportive of Prop 15, and Measures W & Y; and
 – monitored every one of the 26 voting locations in Oakland, especially in East and West Oakland.
While Election Day has passed, our work continues. We will raise the message to Count Every Vote, Protect Democracy, and to celebrate the unprecedented participation in our elections. More people voted than ever before in the history of the United States, and millions of us voted for a country with liberty and justice for every single person.
You can also text RESIST to 41411 to receive action alerts via text about nonviolent direct actions organized by our allies at Bay Resistance to ensure all of our votes are counted, stop a coup and defend the elections.
Thank you for joining together with us by voting for new leaders who will work for all of us, not just the wealthy few, and issues that lift up racial and economic justice.