Today I woke up with the words of Fanny Lou Hamer on my heart – "Never to forget where we came from and always praise the bridges that carried us over." 
Today is our last day to vote! I'm sure you've heard folks say, "Your vote is the first step." But we forget that actually our vote is one part of the organizing and movement building. Like with Prop 15, Schools and Communities First, which is built on the last 40 years of organizing. And now it is our time for corporations to pay their fair share and see the reinvestment in our schools and communities come to fruition. We have critical Oakland City Council races, like Carroll Fife in District 3, Richard Raya in District 5, and Rebecca Kaplan at Rep-at-Large. Voices of our people, who have been fighting, marching, demanding, organizing and building for decades for social, economic, and environmental justice are hinging on some of these seats.  
Our votes this election from the top of the ticket all the way down will shape the future of our democracy for the next four years and beyond. Be sure to take a look at our voter guide to help with how to vote. 
Today is your last chance to vote. This year's election, like so many other things this year, is different. We've been in election season for two months now. So, although voting locations are open today from 7am to 8pm, we recommend setting aside at least 2 hours to account for long lines and any administrative or technical issues that arise at the last minute. You can vote at any of the 100 polling locations available in Alameda County – there are no assigned polling places.
Here's some reminders if you need to head to the election locations: 
– You can register to vote onsite and receive a provisional ballot (also known as an absentee ballot)
– You can receive a new ballot if you lost your vote by mail ballot 
– You can ask for a ballot in a different language 
– You can receive assistance in filling out your ballot
– You can receive accommodations for people with disabilities. 
– Stay Healthy and Safe: bring your mask and respect all the social distancing guidelines 
If you or anyone you know faces an issue at the voting location, whether it be voter intimidation or voter suppression – please report the violations here. This includes and is not limited to: administrative issues, broken machines, voter harassment, accessibility issues, voters being turned away and closed poll locations.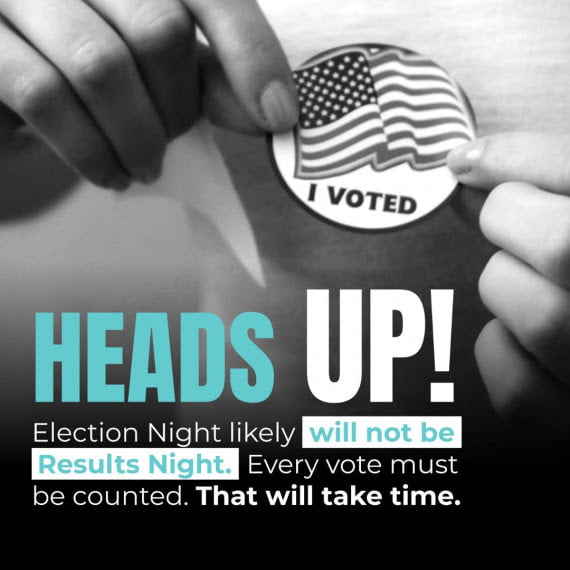 Patience is key this election! One of the exciting things I look forward to every election is watching the results come in live after the polls close. This year we won't know any clear results immediately. With record numbers of mail-in ballots this year, it's going to take a little longer to count every vote. We can expect the next few weeks will be filled with more confusion and false declarations of victory. We must defend democracy and demand that every vote be counted to ensure a fair election. We might not have results or be able to claim any victories tonight, but we have to stay positive and be patient to make sure every vote is counted, rather than have a speedy and early false claim to victory.