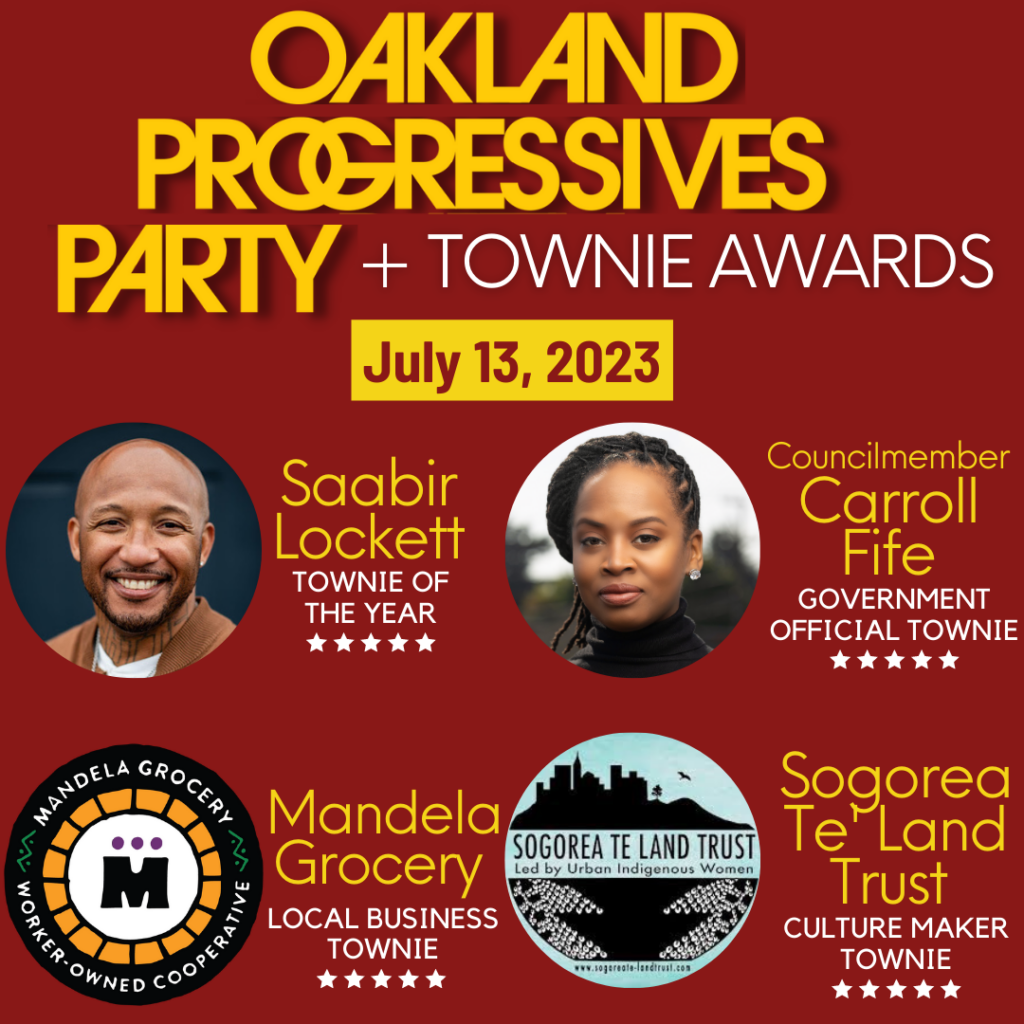 We are excited to celebrate these Town heroes as well as our collective wins at the 2023 Oakland Progressives Party + Townie Awards.
Thursday, July 13th
5:30 to 8:30PM
Oakstop Broadway Event Hall
2323 Broadway, Downtown Oakland
We are thrilled to honor the following Townie recipients for their outstanding contributions to lifting up racial, economic and environmental justice in The Town: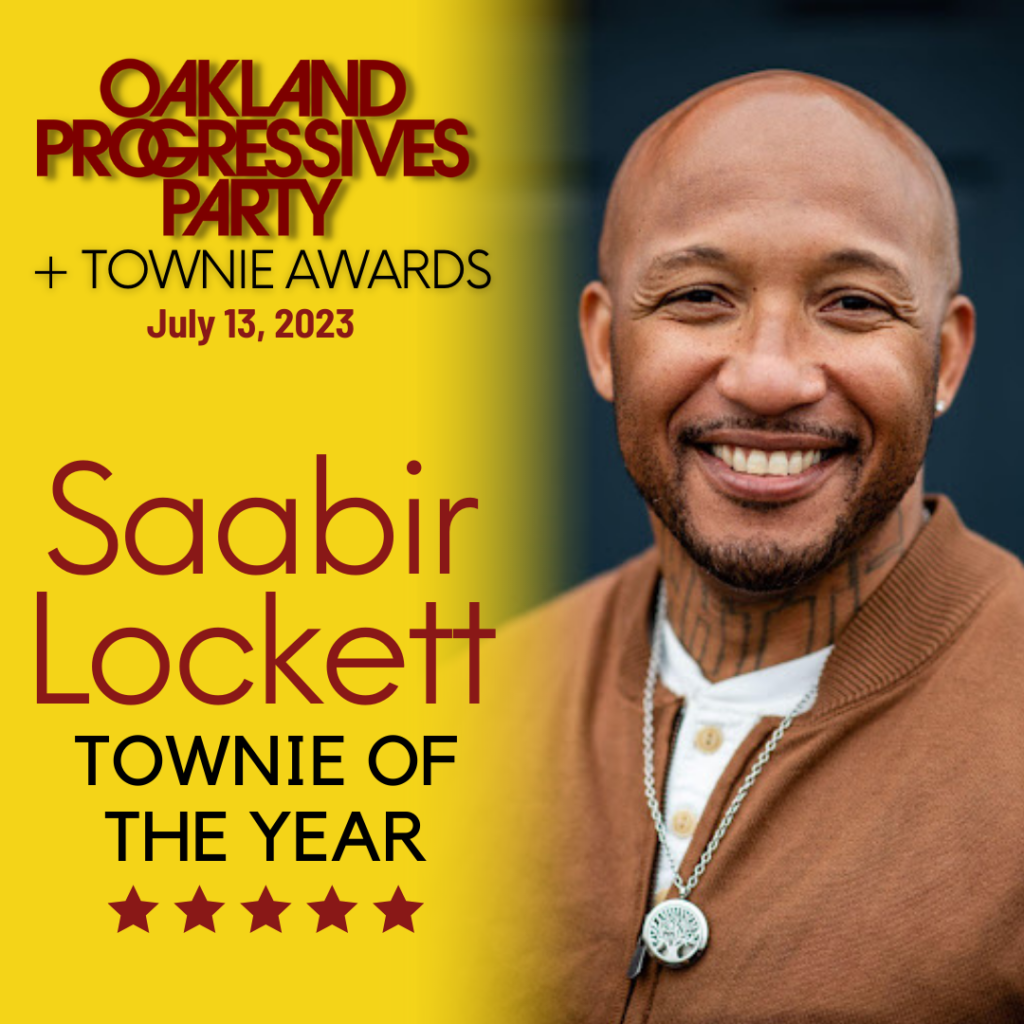 Townie of the Year: Saabir Lockett
A devoted Father and returning citizen, Saabir Lockett's innate passion for community empowerment is connected to an empathetic recognition – from an early age – that some people have access to essential resources and a sense of well-being while others problematically do not. He believes in creating resources for radical social justice, sustainable and equitable systems, community transformation, healing, and liberation. Saabir is the Deputy Director of Civic Engagement & Faith-Rooted Organizing at
EBASE – the East Bay Alliance for a Sustainable Economy
. He is a Mayor-appointed Commissioner for Oakland, a board member of Urban Equity, Founder & Executive Director of Pathways 2 Peace, and a community advocate and activist.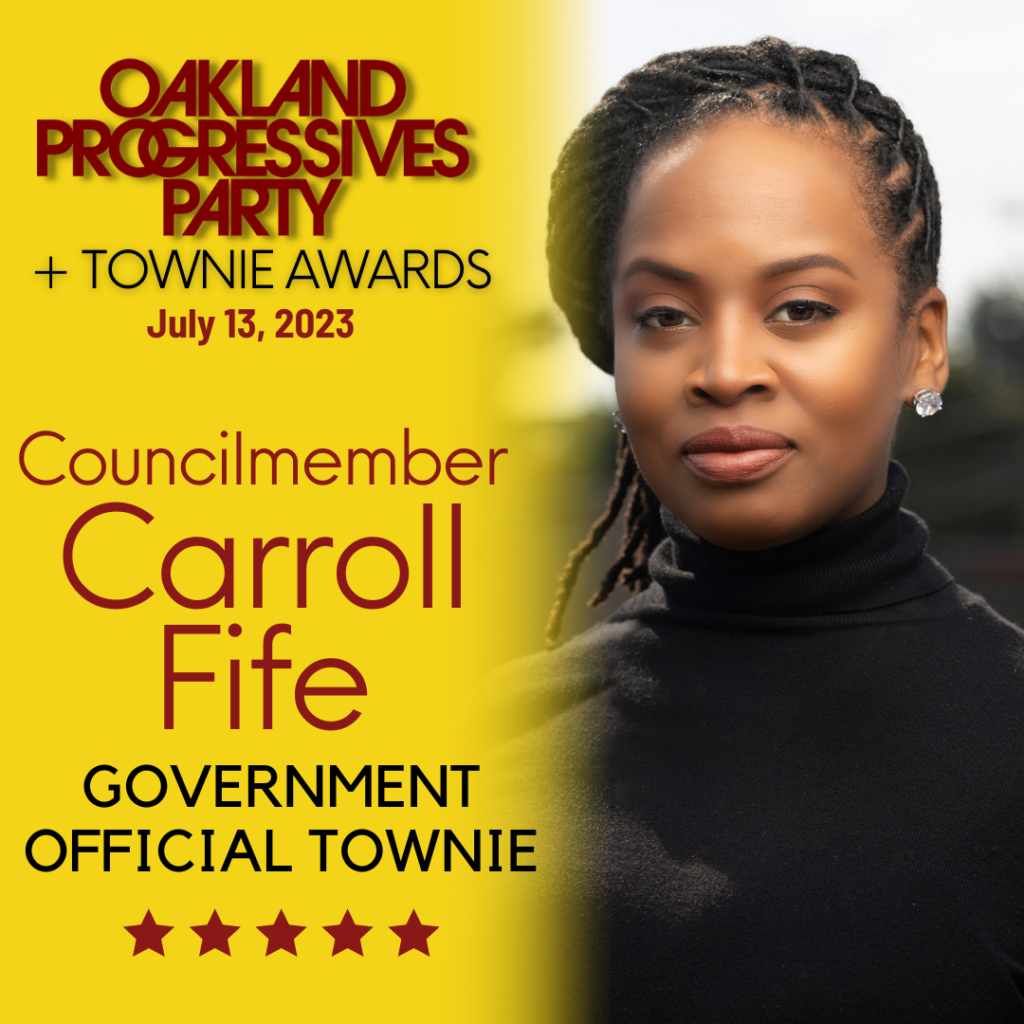 Government Official Townie: Councilmember Carroll Fife 
Oakland
City Councilmember Carroll Fife
represents District 3 in Downtown and West Oakland. Her priorities include providing low-income housing and finding permanent solutions to address the homeless crisis, supporting essential workers, and preserving Oakland's historical and cultural spaces for Black and Brown communities. As former director of ACCE Oakland, she helped found Moms for Housing and passed legislation at the state and local level to build collective power for tenants. Carroll's recent legislative and electoral accomplishments include passing Oakland's emergency eviction moratorium, preventing dangerous CPI rent increases, and passage of progressive business tax and funding for social housing ballot measures.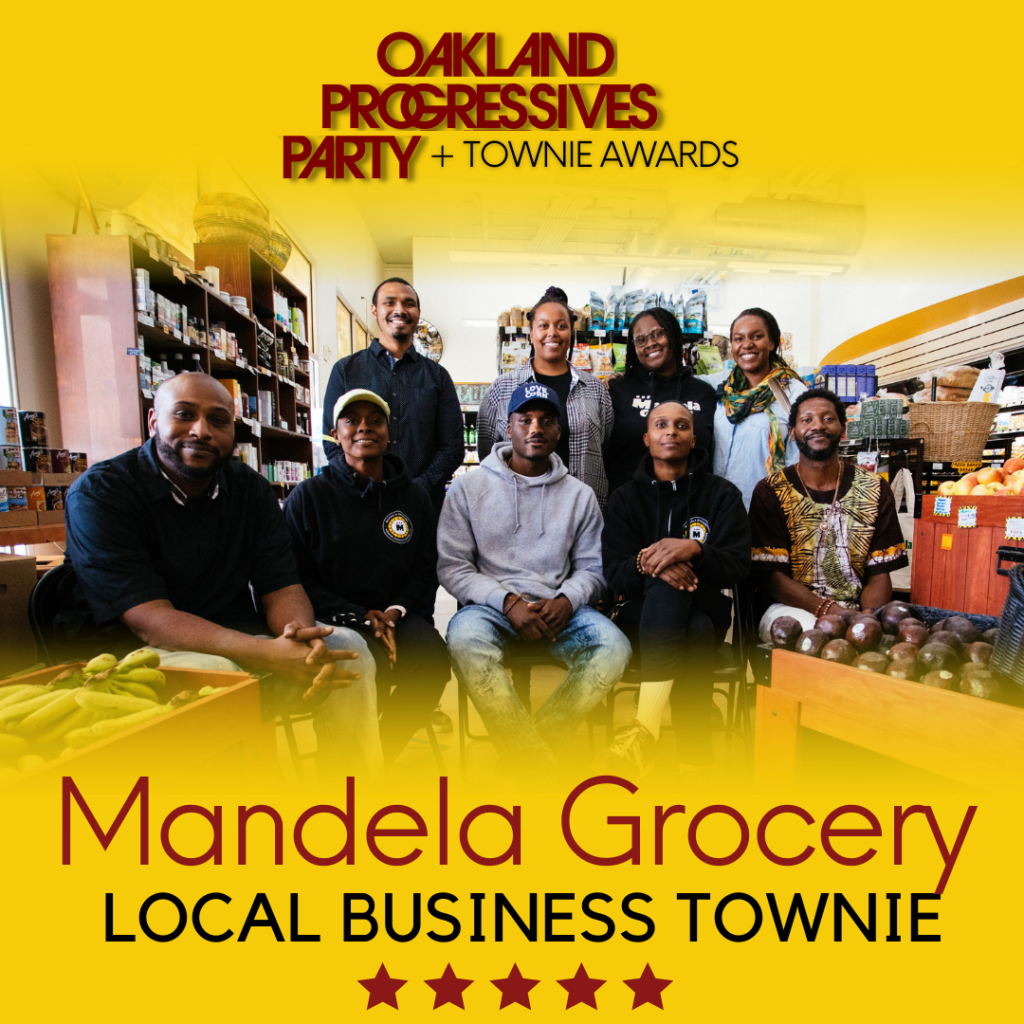 Local Business Townie: Mandela Grocery 
Mandela Grocery Cooperative
was born out of the desire to improve access to healthy food and business ownership for residents in West Oakland. West Oakland is home to over 25,000 people in a 3-mile radius residential neighborhood. Prior to Mandela Grocery Cooperative opening in 2009, there had not a grocery store on 7th street since the 1960's. Beginning in the 1940s, the introduction of urban renewal projects, community redlining, removal of homes and local businesses under eminent domain and construction of the Cypress Freeway disrupted the local economy and community. This disinvestment led to health and economic challenges for remaining residents. In the late 1990s, residents identified strategies to address the severe lack of healthy foods, thriving local businesses, and underemployment.  One of these strategies led to neighbors coming together in 2004 to incorporate and launch a community worker-cooperative grocery business, Mandela Grocery Cooperative.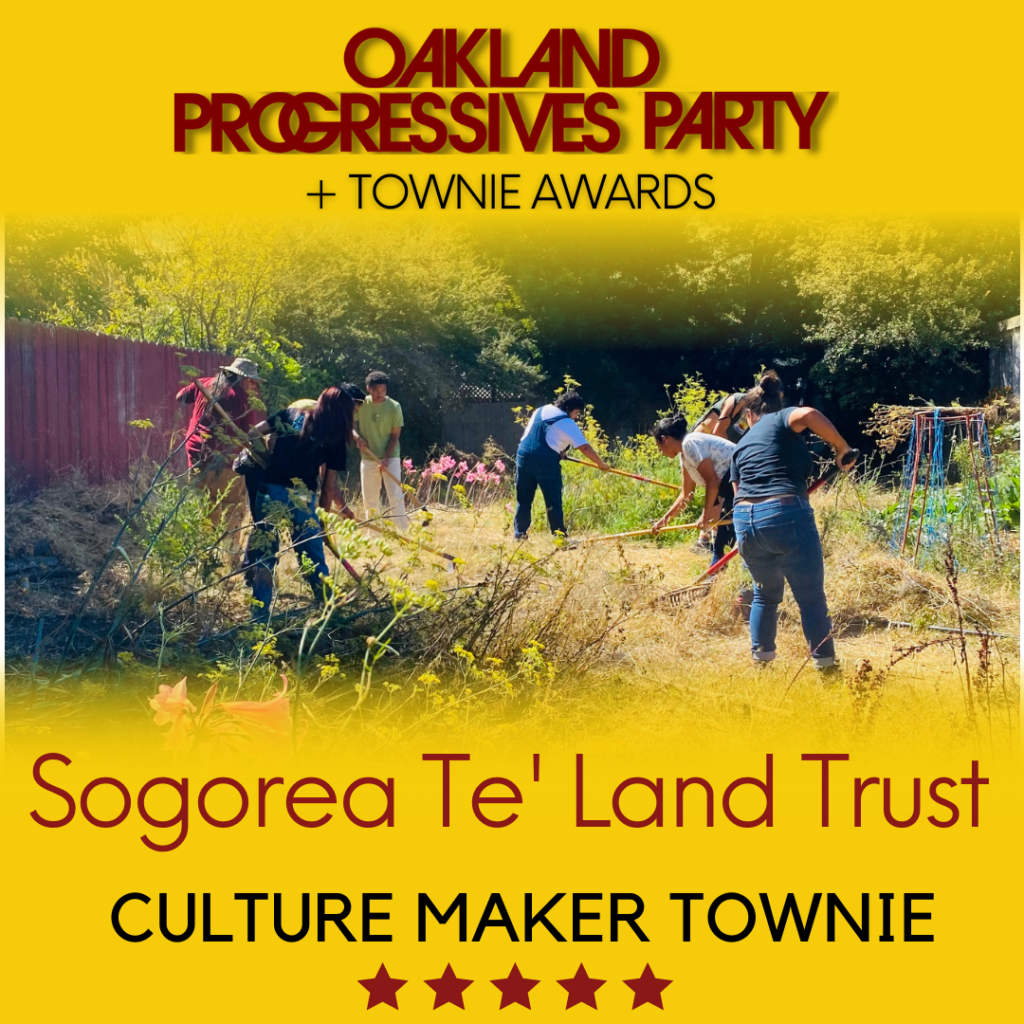 Culture Maker Townie: Sogorea Te' Land Trust 
Sogorea Te' is an urban Indigenous women-led land trust based in the SF Bay Area that returns Indigenous land to Indigenous people. They are centered in Huchiun, the ancestral homeland of the Confederated Villages of Lisjan, now known as the East Bay. Through the practices of rematriation, cultural revitalization, and land restoration, STLT calls on Native and non-Native peoples to heal and transform legacies of colonization, genocide, and patriarchy and to do the work our ancestors and future generations are calling us to do.
Have you purchased your ticket
 yet?
 GET YOUR TICKET
By purchasing your ticket you directly fuel our efforts to expand our base of nearly 50,000 supportive voters as we continue running impactful campaigns. Last year we made history by winning 9 out of 10 races we endorsed in, with Oaklanders electing values-aligned leaders who center equity and racial justice. Our voter guides reached over 80,000 households by mail, and received nearly 10,000 views online, while our outreach team and volunteers spoke with 5,700 new and infrequent Oakland voters on the phone and at the door.