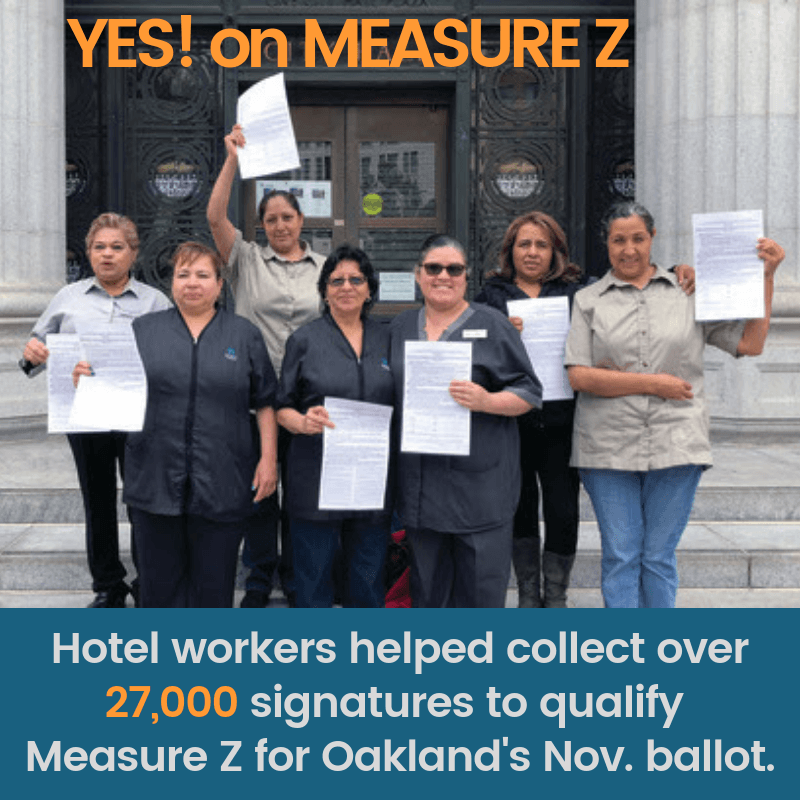 Oakland's hotel workers, who are primarily women of color, face sexual assault on the job at alarming rates. In fact, our friends at the East Bay Alliance for a Sustainable Economy conducted a survey of Oakland hotel workers and found that more than half have experienced a guest exposing himself, and 1 in 4 have felt threatened by a male guest while working.
Many also experience low pay, wage theft and backbreaking workloads that leave them exhausted.
Measure Z, the Time's Up Oakland initiative, would:
provide about 1,500 hotel workers with panic buttons so they can fight back against sexual assault, and
set living wage and workload standards for 600 to 750 hospitality workers, so they can earn fair wages for a fair day's work.
And it will strengthen protections for ALL workers in Oakland by creating a Department of Workplace and Employment Standards with the purpose of enhancing enforcement measures that ensure all low-wage workers in Oakland get paid at least the minimum wage and have fair workplaces.
Oakland's hotel workers deserve safe workplaces, free from the threat of sexual violence, and they should feel supported when filing complaints or removing themselves from unsafe situations. Like so many women across the country, hotel workers in Oakland are standing up to stay Time's Up on sexual assault and wage theft.
Stand with Oakland hotel workers by voting YES! on Measure Z this fall.