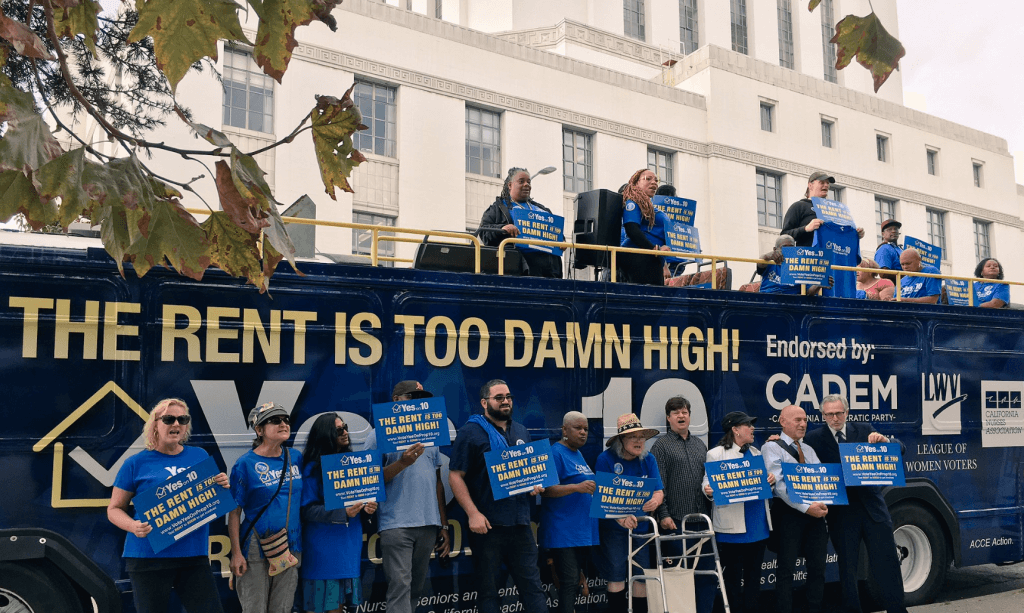 This election, Prop 10 (The Affordable Housing Act) offers a major opportunity to strengthen rent control – one of the biggest safe guards to keep working-class, people of color housed in Oakland. Rent control is a critical tool used by cities to push back against displacement, and to stabilize housing markets.
If passed, Prop 10 would allow cities and counties to apply rent control to more types of housing by removing the barrier that was created by landlords and conservative forces through the Costa-Hawkins Rental Act (1995). This is voters' chance to give their local government permission to apply rent control to:
newly constructed apartment units (built after 1996);

single family dwellings; and

condos.
Repealing Costa-Hawkins also means that we could restrict landlords' ability to raise the rent as much as they desire when a unit becomes vacant. This is crucial because while Oakland's average rent has more than doubled in the last decade, salaries have stagnated for working-class residents.
Lack of affordable housing and housing instability are driving neighbors out of their homes and out of our communities or onto the streets. Our extreme housing crisis is even reaping international attention as Oakland leaders' response (or lack of) to homelessness was even described as "cruel" by a United Nations envoy.
YES on Prop 10 is a vote for housing stability, especially for our most vulnerable community members. Don't be fooled by opposition ads – these are largely funded by predatory and corporate landlords. Passing Prop 10 will open a critical door to keep more people in their homes and communities.
Additional Resources:
Vote yes on Prop. 10 — allowing local rent control is a matter of racial justice by Muffie Fulton published in the San Francisco Chronicle.
Yes! on Prop 10 campaign website