Jennifer Esteen, RN, officially declared her candidacy for the Alameda County District 4 Supervisor seat. We are honored to offer our full support and early endorsement to the former nurse, longtime union leader, and advocate for the esteemed position. Esteen's diverse experience in organizing positions her as a champion for Alameda County and its constituents. From her work as a psychiatric nurse to her former position as Vice President of the Service Employees International Union (SEIU) Local 1021, her unwavering dedication to Bay Area residents is evident.
District 4 includes parts of Oakland, Hayward, Pleasanton, and unincorporated Alameda County –

 

view a map of the district.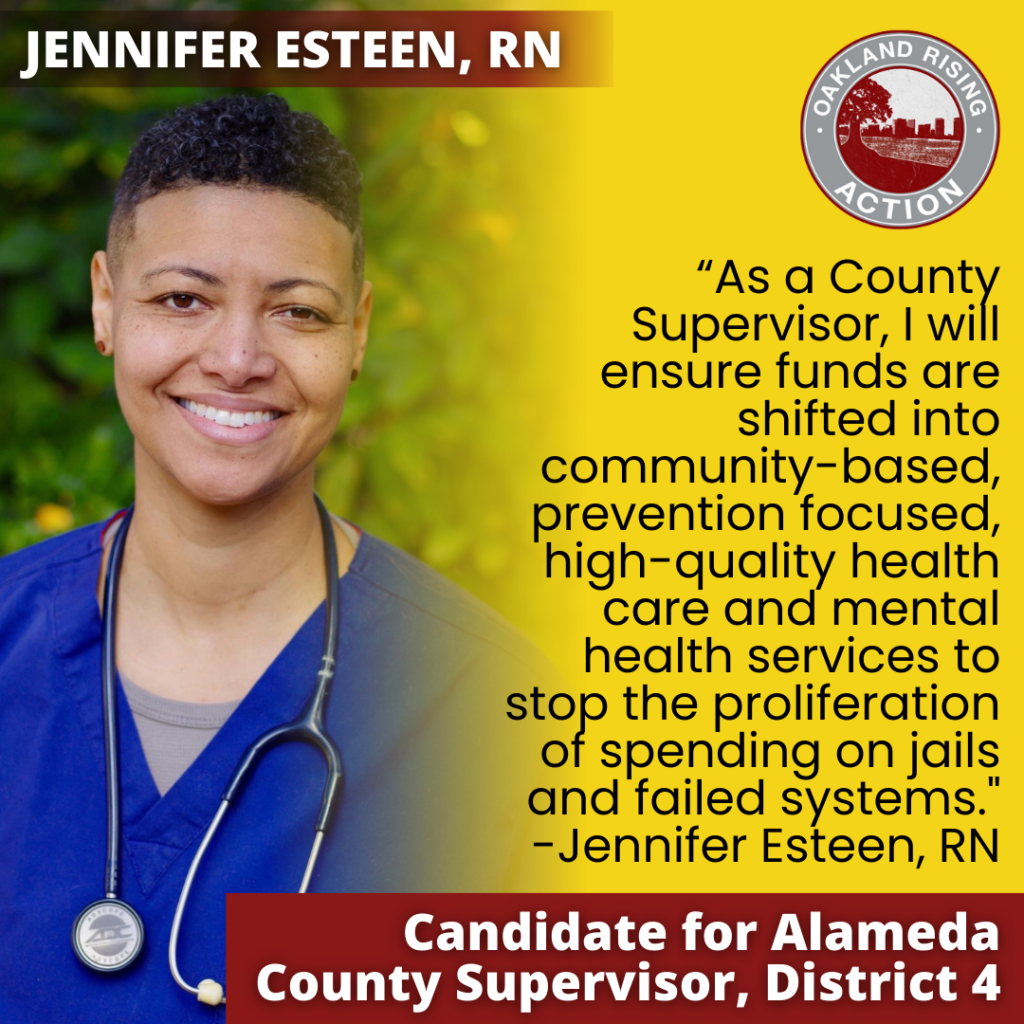 We need representatives on the Board of Supervisors (BOS) who will tirelessly fight for policies and budgets that uplift all residents, placing emphasis on
protecting tenants,
expanding public health and mental health services,
providing housing for everyone, and
funding alternatives to public safety.
The current Board is composed of Supervisors who give vast amounts of funds to the sheriff to lock people up and criminalize our communities while denying funding the structures that keep us safe – healthcare, affordable housing, jobs with thriving wages, and mental health support. This election offers a big opportunity to change how our public money is distributed by the BOS.
We support Jennifer Esteen because of her fearless, progressive, and transformational leadership, which places racial justice at its core. We believe we can work side-by-side with Esteen to work towards a future that serves the needs and aspirations of every member of our community and hold her accountable to the needs of the community when we lack alignment.
With Alameda County trying to build an $80M "mental health" jail expansion, we know we need leaders like Jennifer who will prioritize care over cages. As an accomplished registered nurse, devoted mother, and esteemed community leader, she currently serves as the Vice President of the Alameda Health System Board of Trustees and is a member of the Eden Municipal Advisory Council. She has dedicated her career to delivering compassionate care to the most vulnerable, with experience as a psychiatric nurse at the San Francisco General Hospital Psychiatric Emergency Room.
Witnessing firsthand the dire consequences of diminished funding for mental health care, she is currently involved in assisting San Francisco residents with severe mental illness, helping them secure supportive housing, ongoing treatment, and support in daily living activities. Esteen has resided in the East Bay for two decades and has been a proud Ashland resident, alongside her wife and children, since 2015.
The election primaries for the Alameda County D4 Supervisor seat will take place in March of 2024. To learn more about Jennifer Esteen and her campaign, please visit her official website at www.JenniferEsteen.com.