Special Election for School Board District 5
**VOTE BY November 7**
(All registered voters in District 5 of the Oakland Unified School District will be sent a Vote by Mail ballot. There will be one in-person 11-Day Vote Center open for the OUSD Special Election, beginning October 28th. Registered voters should be receiving their vote-by-mail ballot starting October 9th (early voting begins October 9th). Remember that you can register to vote on the same day as the election!)
***
There is an OUSD Special Election for the District 5 School Board Director seat set for November 7th, highlighting the need for a complete school board to make critical decisions, and provide effective and inclusive representation for Oaklanders.
"All our children deserve a quality education, and schools that allow all our children to feel safe and comfortable to grow. Oakland Rising Action is proud to endorse Sasha Ritizie-Hernandez as we believe she will lead with other progressive OUSD directors to proactively protect our Black students from harm, bias, criminalization, push-outs, and school closures," said liz suk, Executive Director of Oakland Rising Action. "All our students deserve to feel supported enough to thrive and achieve their dreams, not just those living in the hills."

We're excited to share our endorsement of:
Sasha Ritzie-Hernandez, Oakland Unified School District (OUSD), District 5 Board Director Candidate
Sasha is currently a candidate for the OUSD Board Director District 5 seat, with a commitment to prioritizing students and families' voices in creating a culturally sensitive, transparent, fiscally-responsible, and locally controlled education system. Her priorities include recognizing and rewarding dedicated educators, ensuring fair compensation and resources, filling vacancies with qualified candidates, and addressing the needs of vulnerable populations like special education students. She emphasizes family and community engagement, transparency in financial management, and inclusive decision-making. Sasha's goal is to create an equitable educational system that honors Oakland's cultural diversity and affirms every student's identity, providing them with quality education regardless of their school of choice.
Sasha envisions an era of educational excellence that empowers students and uplifts the community. As an Oakland alumna and a longtime organizer, her life's work is to continue to build a brighter future for Oakland families by advancing educational equity for all and giving our communities the opportunity to thrive.
District 5 is in East Oakland and represents: Embarcadero, Fruitvale, Glenview, Highland Park, Jingletown, Meadow Brook, Melrose, Lower Dimond District, Peralta Hacienda, and Reservoir Hill.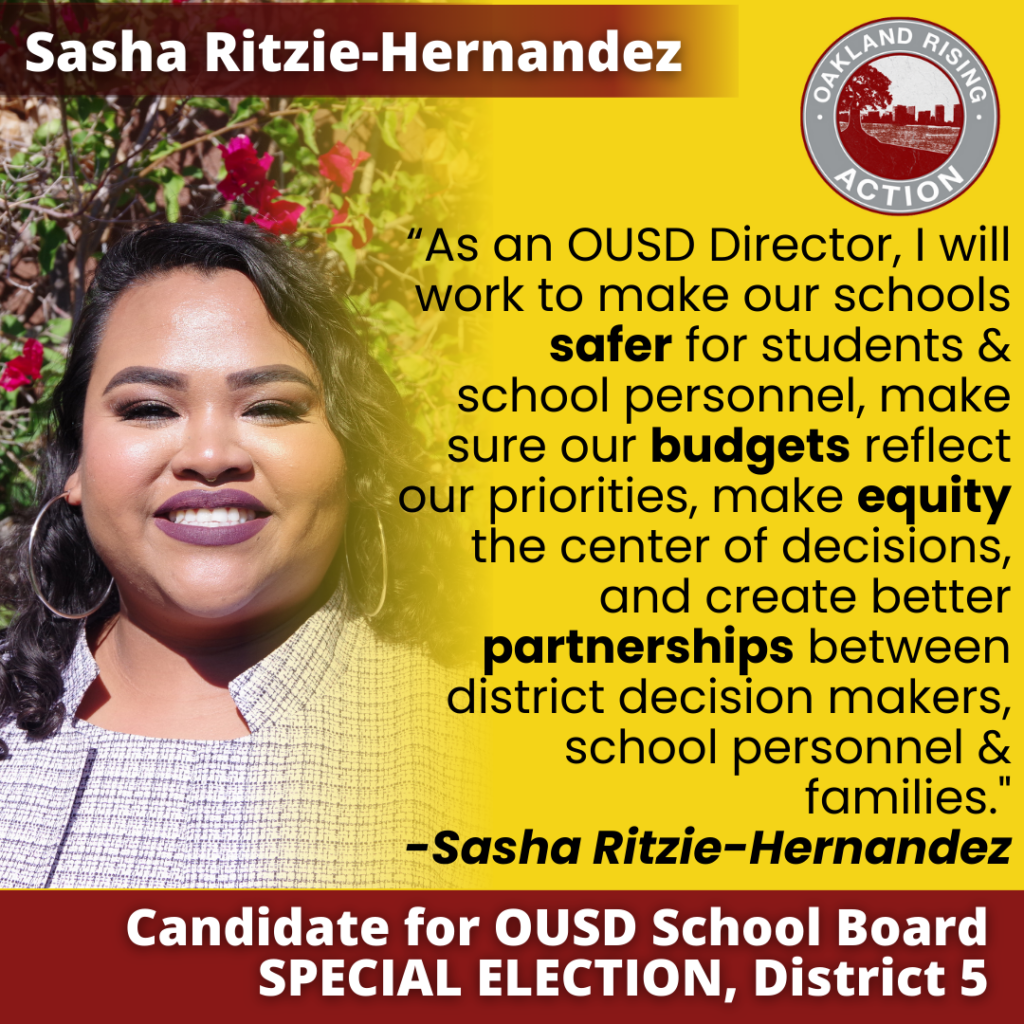 More about Sasha Ritzie-Hernandez:
Sasha Ritzie-Hernandez is a Black-Indigenous, queer, immigrant, and long-time resident of Oakland's Fruitvale neighborhood. Born in Guerrero, Mexico, she grew up as the child of immigrant parents who had to navigate the challenges of the American education system while facing issues like language barriers and their undocumented status. Sasha became an activist during her teenage years, advocating against police brutality and supporting the DREAM Act. She also volunteered as an interpreter for low-income immigrant families and worked with the Just Wages Network.
Sasha's commitment to community service continued as she worked as a Bilingual Instructor at the Alameda County Registrar of Voters Office, where she played a crucial role in facilitating civic engagement during elections. Her passion for education led her to become an advocate, emphasizing the importance of equitable education. She served as a Senior Parent Organizer at the Parent Leadership Action Network (PLAN) for seven years leading school improvement projects, advocating for better policies, and providing workshops on early literacy. She mobilized families for various causes, including teacher strikes and pandemic safety measures. She currently serves as the Organizing Director at the Bay Area Coalition for Education Justice (BACEJ), fighting for quality public education for all Bay Area students.
Know Your Voting Rights
Click here to learn more about your Voting Rights this 2023 Special Election.
Guía del votante para la Elección Especial 2023
Elección Especial para el Distrito 5 de la Junta Escolar
**VOTE A MÁS TARDAR el 7 de noviembre**
(Todos los votantes inscritos en el Distrito 5 del Distrito Escolar Unificado de Oakland recibirán una papeleta para votar por correo. Un centro para votar en persona abrirá el 28 de octubre por once días para la Elección Especial del OUSD. Los votantes inscritos recibirán sus papeletas para votar por correo a partir del 9 de octubre (la votación temprana empieza el 9 de octubre). ¡Recuerde que puede inscribirse para votar el mismo día de las Elección!)
***
La Elección Especial para director del Distrito 5 de la Junta Escolar del OUSD será el 7 de noviembre y queremos resaltar la necesidad de tener una junta escolar completa para tomar decisiones importantes y que todos los residentes de Oakland tengan una representación efectiva e inclusiva.
"Todos nuestros niños merecen una educación de calidad y escuelas que permitan que todos se sientan seguros y cómodos para poder crecer. Oakland Rising Action se enorgullece de respaldar a Sasha Ritzie-Hernandez porque creemos que liderará con otros directores progresivos del OUSD para proteger proactivamente a nuestros estudiantes afroamericanos del perjuicios, prejuicios, criminalización, de ser sacados de las escuelas y del cierre de las escuelas", dijo liz suk, directora ejecutiva de Oakland Rising Action. "Todos nuestros estudiantes merecen sentirse lo suficientemente apoyados para prosperar y alcanzar sus sueños, no solo los que viven en las colinas".
Nos complace compartir que respaldamos a:
Sasha Ritzie-Hernandez, candidata a directora del Distrito 5 del Distrito Escolar Unificado de Oakland  (OUSD)
Sasha es candidata para el Distrito 5 de la Junta de Directores del OUSD y está comprometida con priorizar las voces de los estudiantes y de las familias para crear un sistema educativo culturalmente receptivo, transparente, fiscalmente responsable y bajo el control local. Sus prioridades incluyen reconocer y recompensar a los dedicados educadores asegurando que reciban un salario justo y que tengan los recursos que necesitan, llenando las vacantes con candidatos calificados y abordar las necesidades de las poblaciones vulnerables, como los estudiantes que necesitan educación especial. Pone especial énfasis en la participación de la familia y de la comunidad, en la transparencia en la administración del dinero y en procesos de toma de decisiones inclusivos. La meta de Sasha es crear un sistema educativo equitativo que rinda honor al diverso legado cultural de Oakland y que afirme la identidad de cada estudiante mientras les brinda una educación de calidad sin importar la escuela que escojan.
Sasha visualiza una era de excelencia educativa que empodere a los estudiantes e impulse a la comunidad. Como exalumna de las escuelas de Oakland y legendaria organizadora, ha dedicado su vida a crear un futuro brillante para las familias de Oakland promoviendo equidad educativa para todos y dando a nuestras comunidades la oportunidad de prosperar.
Lea nuestro comunicado de prensa
El Distrito 5 está en East Oakland y representa a Embarcadero, Fruitvale, Glenview, Highland Park, Jingletown, Meadow Brook, Melrose, Lower Dimond District, Peralta Hacienda y Reservoir Hill.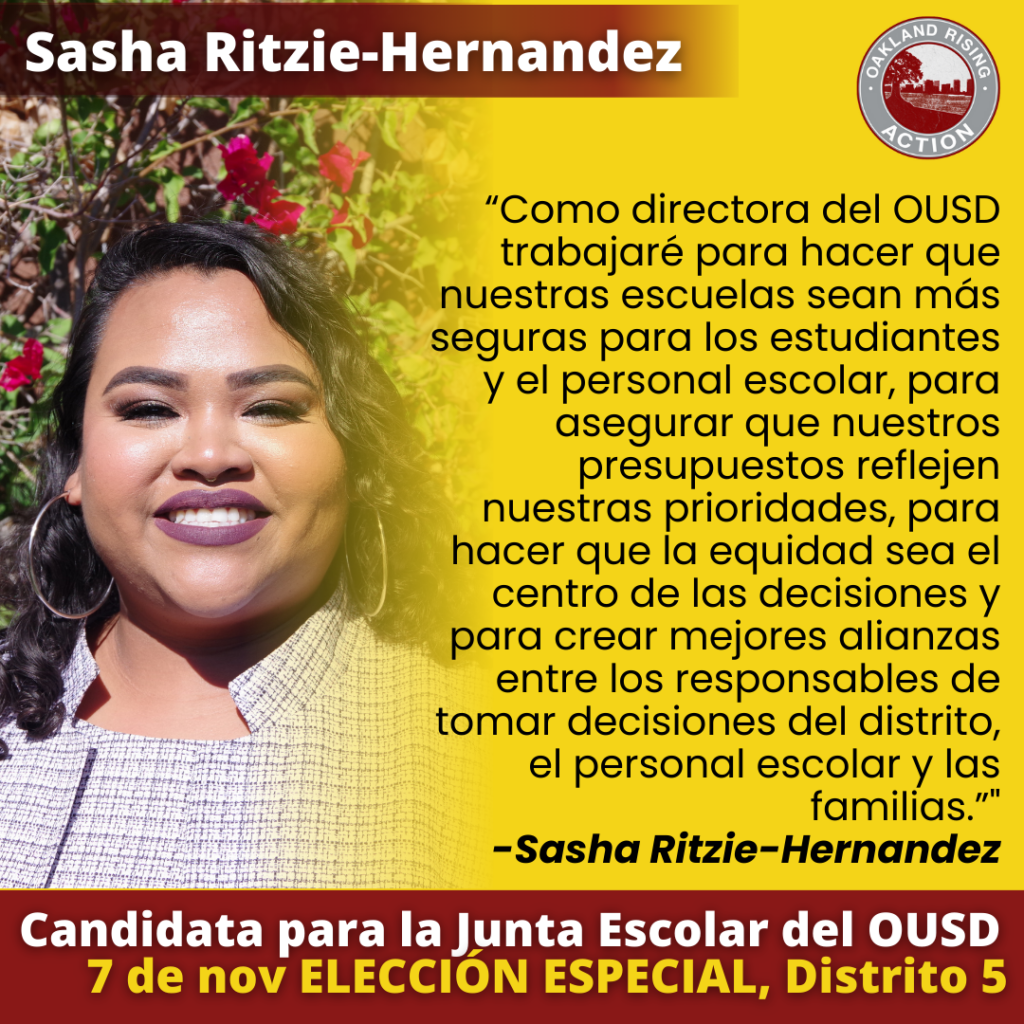 Más sobre Sasha Ritzie-Hernandez:
Sasha Ritzie-Hernandez es afroamericana-indígena, queer, inmigrante y tiene mucho tiempo viviendo en el vecindario de Fruitvale de Oakland. Nació en Guerrero, México, y fue criada por padres inmigrantes que tuvieron que navegar los desafíos del sistema educativo de Estados Unidos mientras enfrentaban barreras idiomáticas y su estatus de indocumentados. Sasha se convirtió en activista en su adolescencia abogando contra la brutalidad policial y apoyando la Ley DREAM. También fue intérprete voluntaria para las familias inmigrantes de bajos ingresos y trabajó con la red Just Wages.
El compromiso de Sasha con el servicio comunitario continuó a través de su trabajo como instructora bilingüe en la Oficina del Registro Electoral del Condado de Alameda, en la que tuvo un importante papel para facilitar la participación cívica durante las elecciones. Su pasión por la educación hizo que se convirtiera en activista para enfatizar la importancia de una educación equitativa. Fue organizadora sénior para padres de familia de Parent Leadership Action Network (PLAN) por siete años durante los que encabezó proyectos de mejoras escolares, abogó por mejores políticas y organizó talleres sobre alfabetización temprana. Movilizó a las familias alrededor de varias causas, incluyendo las huelgas de los maestros y las medidas de seguridad durante la pandemia. En la actualidad es directora de Organización de Bay Area Coalition for Education Justice (BACEJ) en donde lucha por una educación pública de calidad para todos los estudiantes del Área de la Bahía.
Conozcan sus derechos electorales
Hagan clic aquí para conocer más de sus derechos electorales en esta Elección Especial 2023.