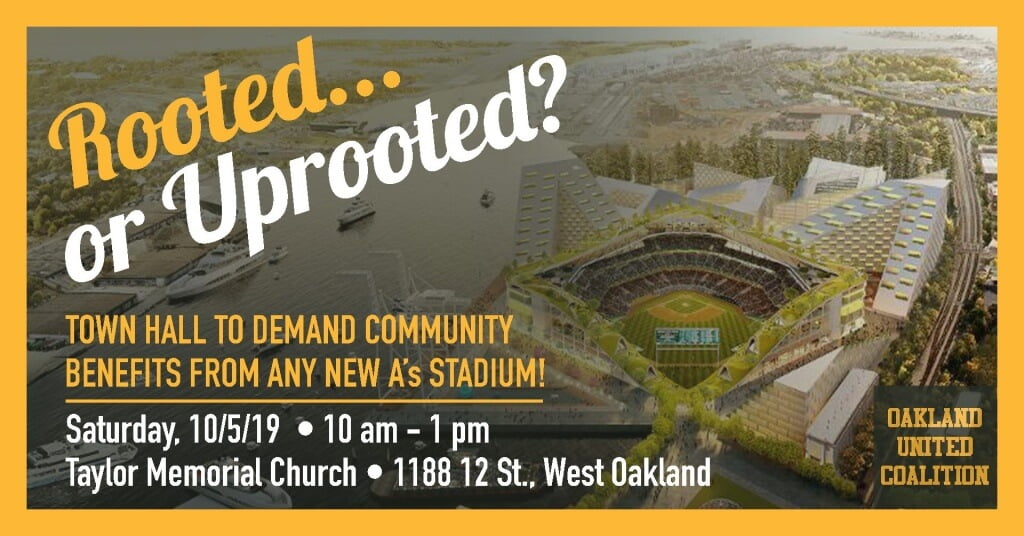 Do you believe that public land should serve the public good? The City and Port of Oakland are considering a new mega baseball stadium complex on public land at Jack London Square. With displacement and gentrification at an all-time high in Oakland, this stadium project – proposed by powerful billionaires – could be a playground for the wealthy and out-of-town tourists, or it could be a community-centered project that creates living-wage jobs for local residents, truly affordable housing, a healthier environment, and vital services that keep existing residents in thriving neighborhoods. It is up to us.
Join our ally, East Bay Alliance for a Sustainable Economy, for a community town hall on Saturday, October 5th at Taylor United Methodist Church (RSVP here). Demand a strong Community Benefits Agreement that brings good jobs, affordable housing and environmental justice to our communities.
The proposed stadium complex includes a 34,000 seat stadium, 4,000 luxury housing units and an entertainment complex on public land at the Port of Oakland. We and Oakland United – a coalition of residents, workers, faith leaders, and youth – believe that public land and public resources should be for the public good!
Too many long-term residents have already been pushed out of Oakland. Too many families are still vulnerable to displacement. We must act now to make sure any large-scale ballpark development will benefit and not harm local communities that are still here. Join us to ensure "rooted in Oakland" means rooted in community:
Saturday, October 5th | 10 AM – 1 PM
Taylor Memorial Church
1188 12th Street in West Oakland
We saw how when our sister org, Oakland Rising, lifted up community voices, they helped to persuade decision makers to halt the stadium from moving to the Eastside-Chinatown neighborhoods in 2017, preventing the displacement of our immigrant, student, and working-class neighbors (Learn more). While we are proud that the A's are Rooted in Oakland, we expect them to be a responsible community partner and to do their part to avoid exacerbating the displacement of our communities.