2019 is kicking off on the right foot as a record number of unapologetically progressive women of color step into power. From Oakland to the halls of Congress, women answered the call to public leadership and ran on their values – never wavering on their message of inclusion and equity for all. It's a historic moment as we celebrate the inauguration of women like: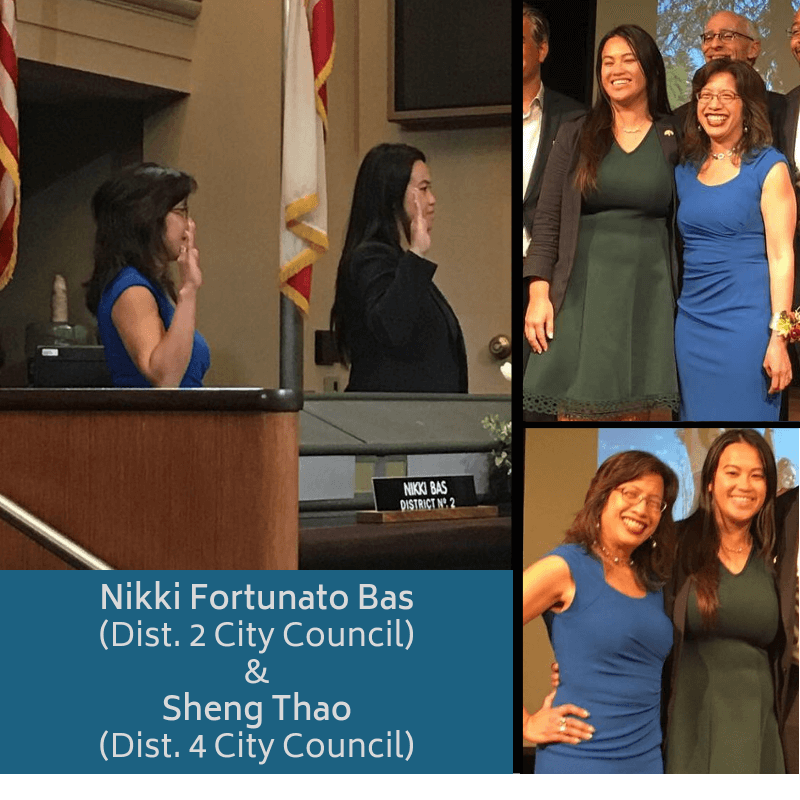 – Nikki Fortunato Bas, a lifelong workers' rights organizer who unseated an incumbent to become Oakland's first Filipina-American councilmember;
– Sheng Thao, who brings a track record of advancing progressive policies in City Hall and is California's first Hmong elected to a city council;
– Ayanna Pressley, who spoke out against Trump's attacks on immigrants, workers and women from the campaign trail to the Capitol as Massachusetts's first African American Congresswoman;
– Alexandria Ocasio-Cortez, who ran on a platform of racial and economic justice, unseating a 10-term incumbent to become the youngest Congresswoman in US history; and
– Rashida Tlaib, the first Palestinian-American woman elected to congress who is calling for Trump's impeachment and defending the constitutional right to boycott Israel while it continues its illegal occupation.
All of these women of color

 

led with hope & a vision for change.
The political tides are changing. With the Trump administration's onslaught on our humanity, the 2018 midterm election showed how speaking from a place of dignity and inclusion resonates and motivates people, translating into voters turning out locally and nationally in numbers atypically high in a midterm election. We saw statewide and nationally that when we educate, activate, and mobilize working-class people of color, and engage them in the democratic process on the issues that they care about, THEY TURN OUT!
But let's be clear – our local wins are the result of long-term planning and preparation. Over the past 10 years, our work to build enduring progressive political power has included developing social justice leaders for roles in public service, and a decade of building political strategy. In particular, our values-based leadership development program has supported cohorts of people from our base to enter positions of public leadership, from boards and commissions to serving in elected office. Slowly but surely, we are fortifying the public leadership pipeline by training and advancing social justice leaders – especially working-class, women, and people of color – who lead in a collaborative, accountable, and values-based way.
This past election cycle there were two candidates who came from the ranks of our sister org's (Oakland Rising) collaborative partners who are bold, unapologetically progressive women of color – Nikki Fortunato Bas who won the D2 City Council seat and Clarissa Doutherd who ran for the first time for the D4 Oakland School Board, and lost to a well-known candidate backed by the deep-pocketed charter school movement. Moreover, the impacts of our leadership development didn't stop at these two candidates – several of their campaign team members and many of their volunteers were trained up by our sister organization, Oakland Rising.
With the mid-term elections over, our work towards creating a more equitable Oakland continues. Now we must provide support, guidance and accountability as we work with elected officials, offering them policy expertise and opportunities for collaboration. We look forward to building and strengthening relationships, finding opportunities for partnership, and improving accountability between elected officials and our communities that they are charged with representing.
And, with the 2020 election just around the corner, we will continue to train values-aligned leaders so that we can build on these recent wins and keep on changing the face of Oakland politics.