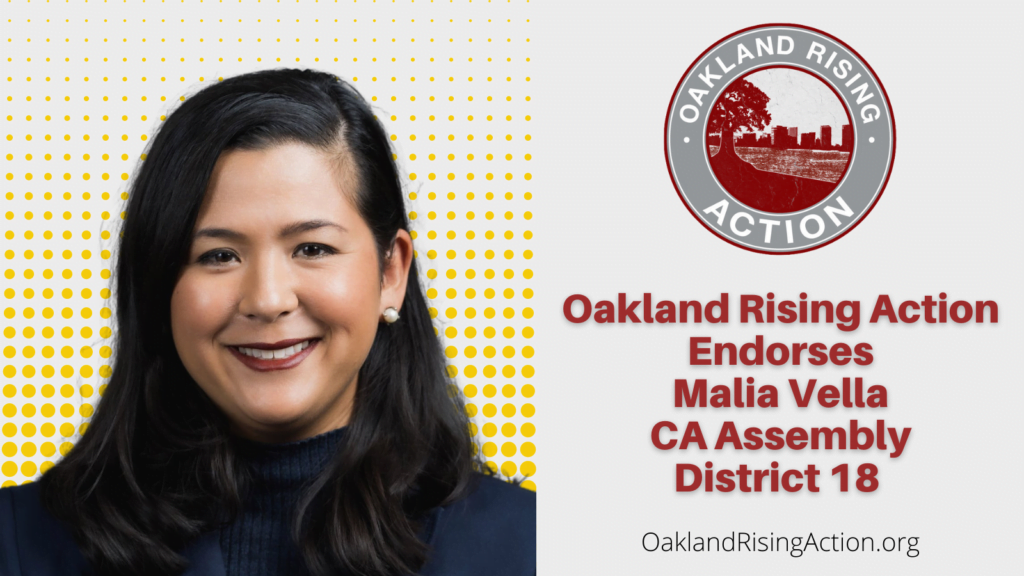 Today, less than one week before mail-in ballots begin to be sent out, progressive political networks Oakland Rising Action and Bay Rising Action endorsed Vice Mayor Malia Vella of Alameda for the California Assembly District 18 special election.
The multi-racial, multi-issue networks represent communities of color and working-class communities in Alameda County and beyond, whom conventional election campaigns have ignored.
"While we were lucky to have several promising women of color candidates to choose from, our community-led endorsement process has shown that Malia Vella is the best choice and the people's choice to represent District 18. She is ready to hit the ground running for a just recovery in California," said liz suk, Executive Director, Oakland Rising Action. "Vice Mayor Vella will push her colleagues to proactively protect families and the poor, unhoused, working-class, renter, and BIPOC communities we represent in Alameda County. She is the fearless and exemplary leader we need in Sacramento, who is confident in her decisions and attuned to the implications on our people at the local level."

"Our assessment of the candidates from the perspectives of flatlands voters confirmed that Malia Vella will continue to lead with her values and uplift these communities most impacted by the pandemic and harsh working conditions," said Kimi Lee, Executive Director, Bay Rising Action. "Vice Mayor Vella is visionary, strategic, and experienced in working with the community and labor to get things done. Her track record, platform, and plan to win reflect those qualities, from her commitment to reimagining and reworking public safety; to her support among renters, working families, and labor; to her priorities in food security, healthcare access, and education."
With this endorsement, Oakland Rising Action and Bay Rising Action also commit to voter education and turnout in Alameda County's disenfranchised communities for the District 18 special election. The organizations plan to hold a volunteer texting program in the next few weeks to reach voters.
To weigh in on the upcoming primary, eligible voters should register to vote by June 14. Vote-by-mail ballots will begin to arrive in the first week of June, and voters will have until June 29th to cast their ballots. The general election will take place in August.
###
Oakland Rising Action is a community-led political organization focused on supporting candidates and issues that drive a progressive agenda for Oakland's working-class people, immigrant communities, and communities of color living in the flatlands of Oakland.
Bay Rising Action is a grassroots political network that champions strong leaders representing our racial, economic, and environmental justice movements and builds the political power of working-class, immigrant, Black, Latinx, and Asian communities. We unite these communities to create a community-based political infrastructure capable of electing leaders who will achieve the bold solutions we need and stay accountable to us, not corporate lobbyists.