Our public school teachers are gearing up for a historic strike, and they need community members to join in the fight for quality public education for all Oakland youth. There is a lot to do to help make this strike a success as we take the national struggle for public education to our own front yard. This is a historic moment to support our teachers and our families here in Oakland! And, this battle lays the groundwork for the Schools and Community First ballot measure in 2020 which will bring Billions of dollars back to California schools and our communities.
From joining a picket line to delivering food, there are many ways to support! Learn more and sign up – and show our teachers that the community has their back.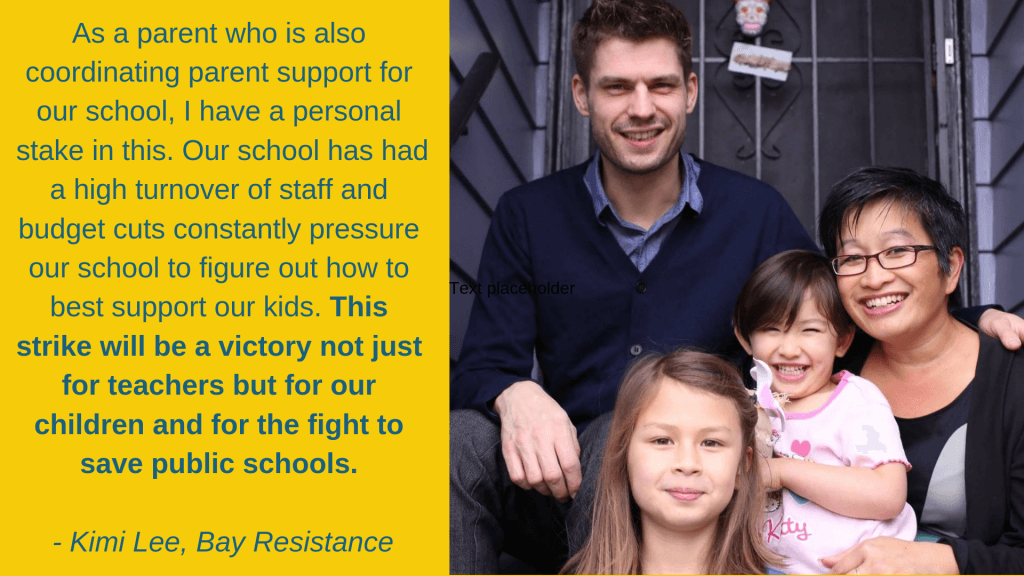 What's at stake:
Public education across the state and nation is under attack as cuts to teachers' salaries and student services mount – all while funding is diverted to overly inflated administration budgets, high-priced private consultants, and privately-run charter schools. Those most caught in the crossfire are working-class families and youth of color. Currently under threat of closure are 24 public schools ALL in the flatlands of East and West Oakland.
Teachers are striking for better conditions so that they and their students can thrive. They're asking Oakland Unified School District to:

reduce classroom sizes

 

so that schools can adequately support all students;
pay teachers a living wage

 

– Oakland teachers are the lowest paid in the area, resulting in constant turnover that harms students and our communities; and
increase student support services

 

for mental health services, restorative justice practices, nurses, speech therapists, counselors, and other specialists.
The strike may last a week or could go on longer. We will know after Feb 15th when it will start and must have a strong kick off the first week to put pressure on OUSD. Stand with Oakland Public-School Teachers and Students!