June 7, 2022 Primary Election
Oakland Rising Action is a community-led political organization focused on supporting candidates and issues that drive a progressive agenda for working-class, immigrant and communities of color living in the flatlands. Our rigorous endorsement process includes questionnaires and interviews with the candidates. Our work does not end with elections as we believe that being elected is not enough. When we co-govern together with electeds, we can harness people power to make the needs of the community count not just at election time, but also when tough decisions need to be made throughout the year. We need to move beyond the transactional to the transformational, especially in Alameda County because the "old boys" club has been running our county for too long. The impacts of electeds who have not been challenged include more funding to incarceration while starving funds for county services for public health care, mental health care, housing, unhoused neighbors, livable wage jobs, and environmental protections.  We can elect strong leaders who prioritize engaging the community, and make the critical strategic changes we need to bring more resources for housing, mental health, health, education, etc.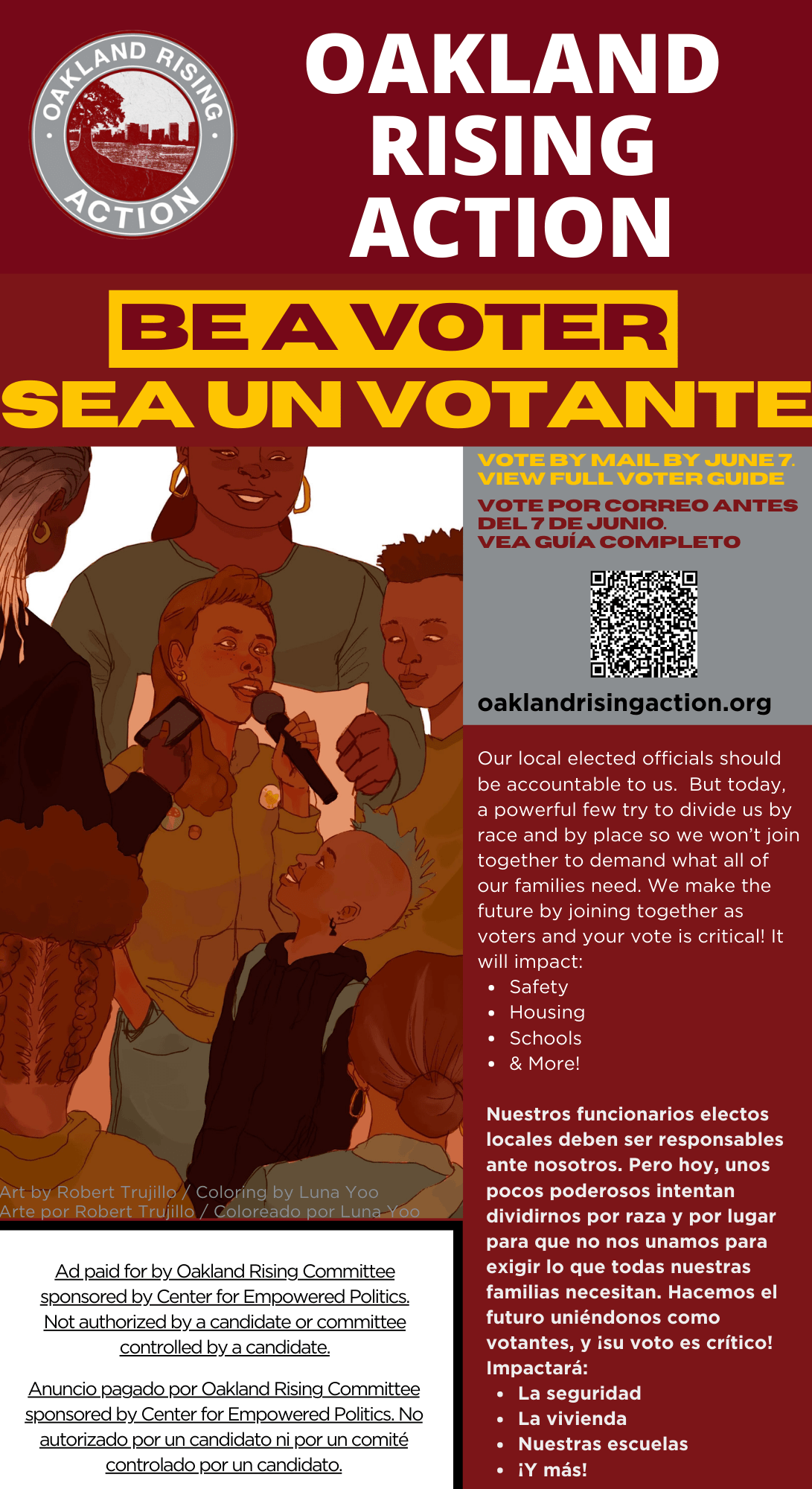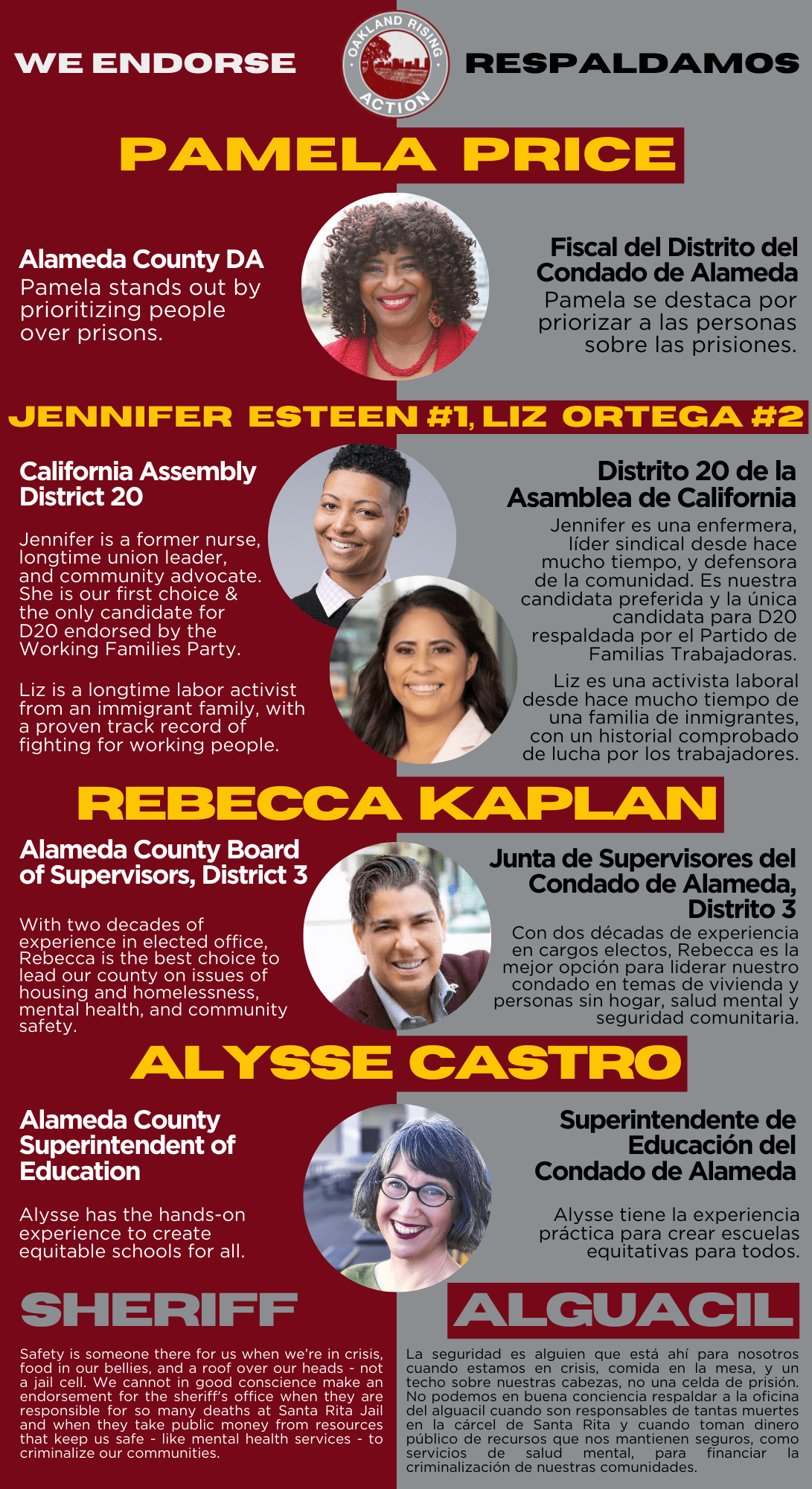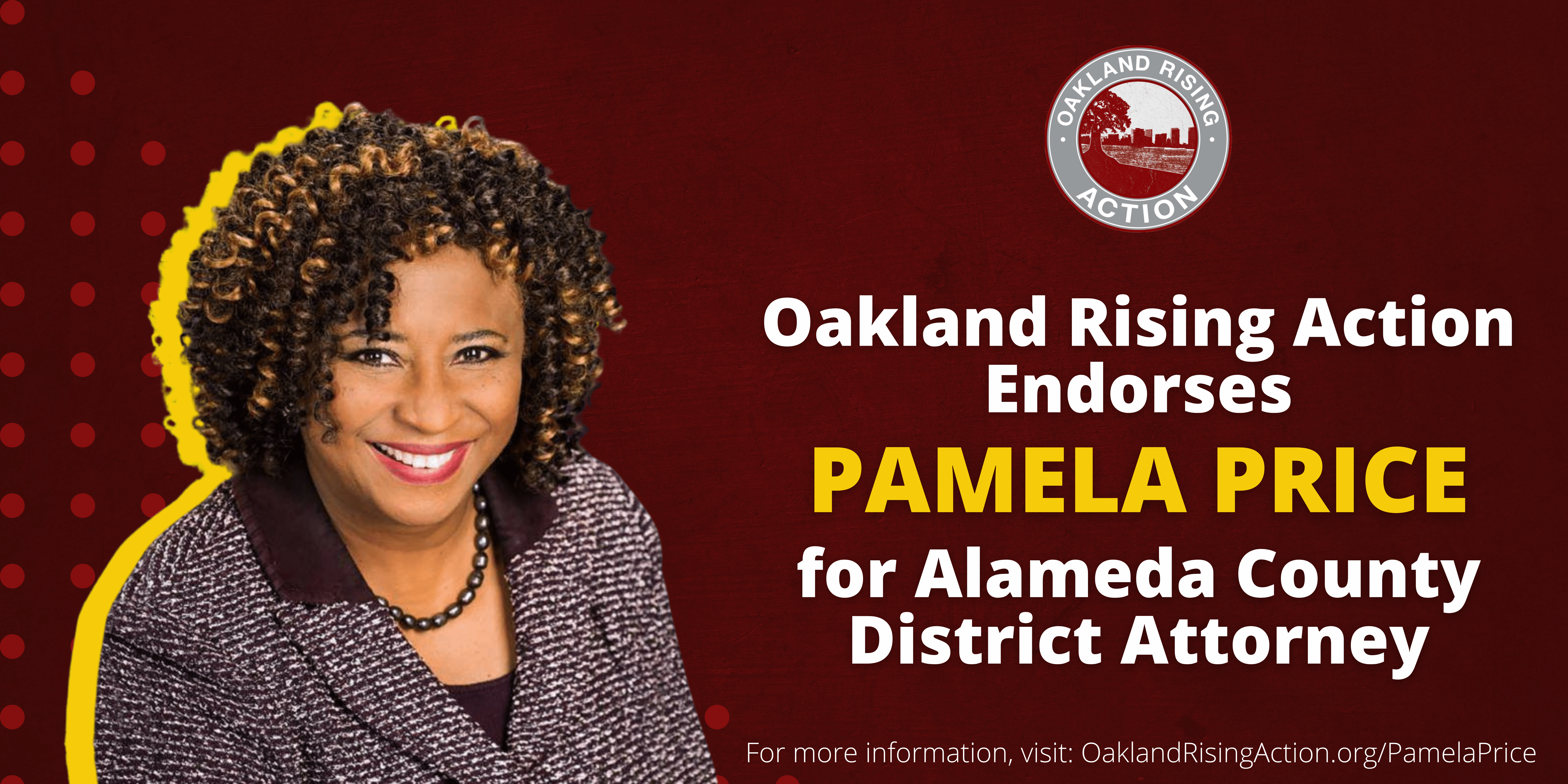 District Attorneys hold one of the most critical and powerful roles in our legal system as they decide who to sentence and how harsh that sentence should be. Pamela Price knows that our current legal system is dysfunctional and that it disproportionately targets Black and Brown communities. Every other candidate for DA in Alameda County is a "law and order" candidate, while Pamela Price is committed to pushing away from the establishment and our addiction to incarceration. Her outspoken leadership in support of alternatives to incarceration has pushed every candidate's platform to the left, resulting in more conversations about diversion programs, ending the practice of charging youth as adults, and investing in community. As our next DA, we would expect Pamela Price to continue to build on her commitment to work with organizers and community members who have the knowledge and expertise to make the changes we need in the county carceral system. Alameda County deserves a DA who understands that safety does not come from locking people away, but from investing in the community, which is why Pamela Price is the best candidate in the race. Read our full endorsement here.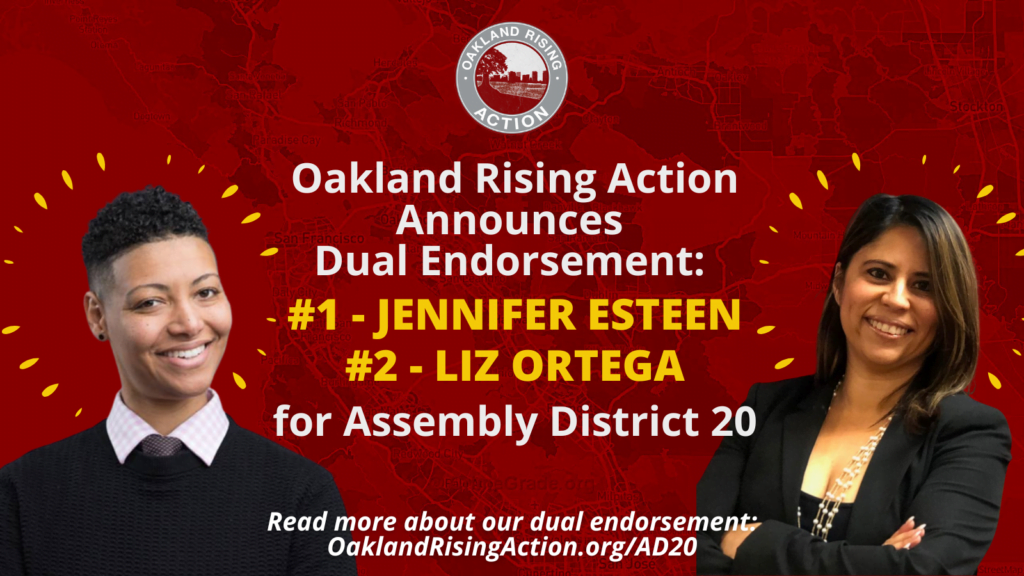 California Assembly District 20 - Dual Endorsement with Jennifer Esteen as our 1st choice, and Liz Ortega as our 2nd choice​
AD 20 includes portions of Hayward, Ashland, Cherryland, Castro Valley, Fairview, San Lorenzo, San Leandro, Union City, Dublin, and Pleasanton. The people of AD 20 are lucky to have two accomplished, progressive women of color running to represent us and challenge the moderate Democrat establishment. Electing either of them would make the winner the first woman since 1998 to hold this position. We are dual endorsing #1 Jennifer Esteen and #2 Liz Ortega because we believe they are both strong candidates who will stand up for working-class people of color in AD 20. While this is not a race in which voters can rank their choices, we rank Jennifer Esteen as our first choice in recognition of her bold, progressive transformational leadership which centers racial justice.
#1 Choice Jennifer Esteen
Jennifer Esteen is a former nurse, longtime union leader, and advocate who comes from grassroots organizing. She's also a queer Black Jewish mom: electing Esteen would make her the first openly gay Black assemblymember to ever hold this position. Her platform shows she has deep values that align with the needs of residents of Assembly District 20, and she is committed to work closely with those everyday residents and grassroots organizations representing working-class communities of color. Jenn understands that issues ranging from housing insecurity to food instability to healthcare access didn't begin with the pandemic – but that they are direct results of a system that has served corporations and special interests for too long. She is ready to shift the power back to our communities. Jenn has incredible energy and motivation to make change for the Bay Area at the state level, and the strategy to match. Learn more about our early support of Jenn Esteen here. Read our full endorsement here.
#2 Choice Liz Ortega
Liz Ortega is a longtime labor activist from an immigrant family with a proven track record of fighting for working people, and the relationships and experience to make an impact. Her undocumented mother brought three-year-old Liz and her family to California to build a better life for themselves, and her family's struggles have influenced the values that guide her work. As the first Latina ever to be elected Executive Secretary-Treasurer of the Alameda Labor Council, her commitment to building solidarity with workers led to increases in pay, sick leave, and healthcare for East Bay workers. Liz Ortega has dedicated her career to fighting the working-class people of Alameda County, and we know she will take that fight to the State Assembly.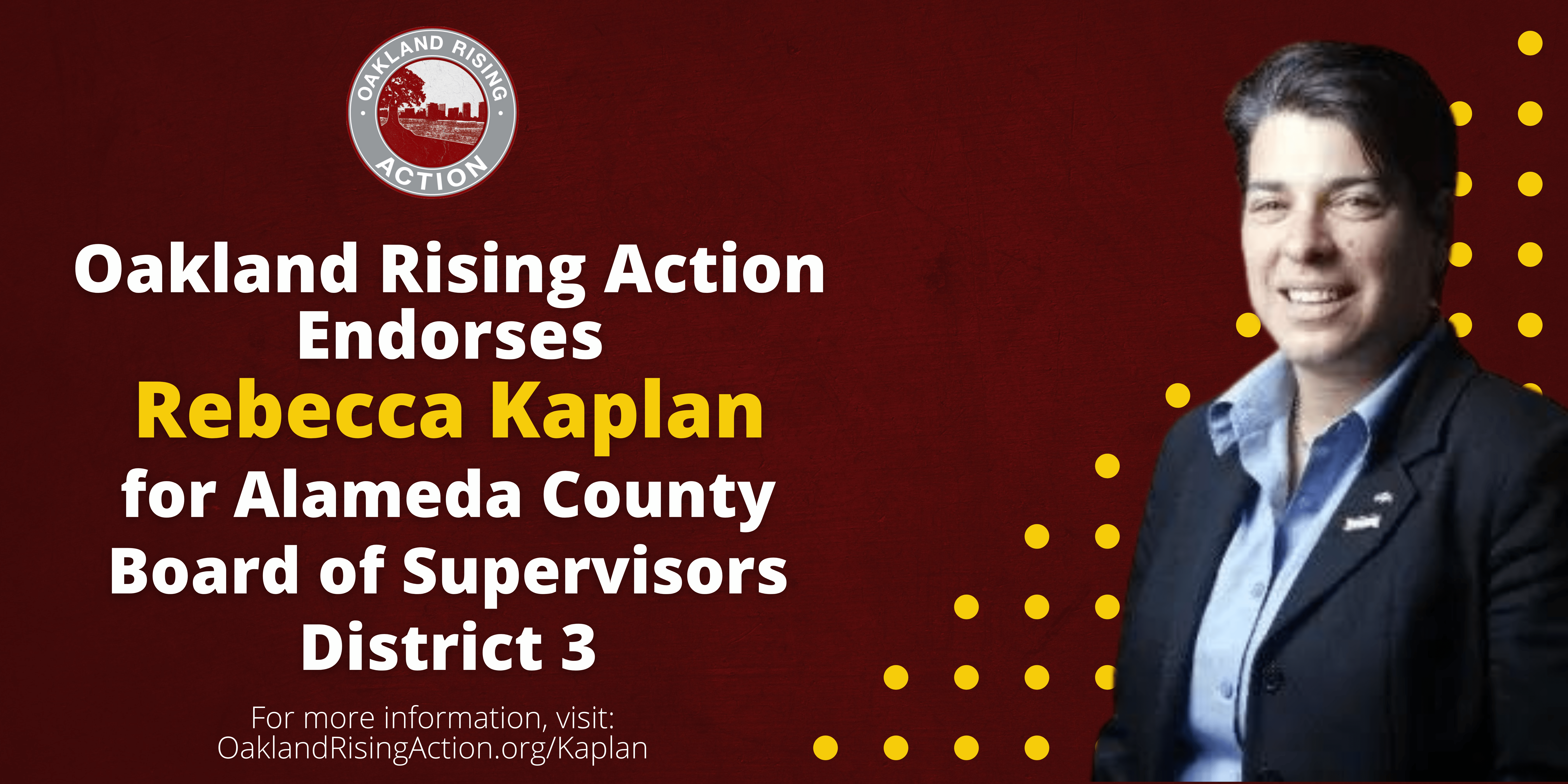 Alameda County Board of Supervisors, District 3 - Rebecca Kaplan
With two decades of experience in elected office, Rebecca Kaplan is the best choice to lead our county on issues of housing and homelessness, mental health services, and community safety. As a member-at-large for the AC Transit board before her current role on Oakland City Council, she has shown that she is effective and experienced in working at the county level. She has a history of supporting movement-building on issues such as community benefit agreements, police reform, immigration, rights of working people, housing justice, environmental justice, and more. There's a big opportunity on the Board of Supervisors to change how our public money is distributed: right now, vast amounts at the county level are given to the sheriff to lock people up and criminalize our communities. Rebecca Kaplan is interested in changing that. She has the policy chops to get things done, and we ask her to deepen  her commitment to community engagement.. Given the current makeup of the Board of Supervisors, we need to ensure that this seat goes to someone who won't be afraid to be the lone progressive voice. We believe that Rebecca Kaplan is unafraid to make bold moves to make the changes that we need in the county.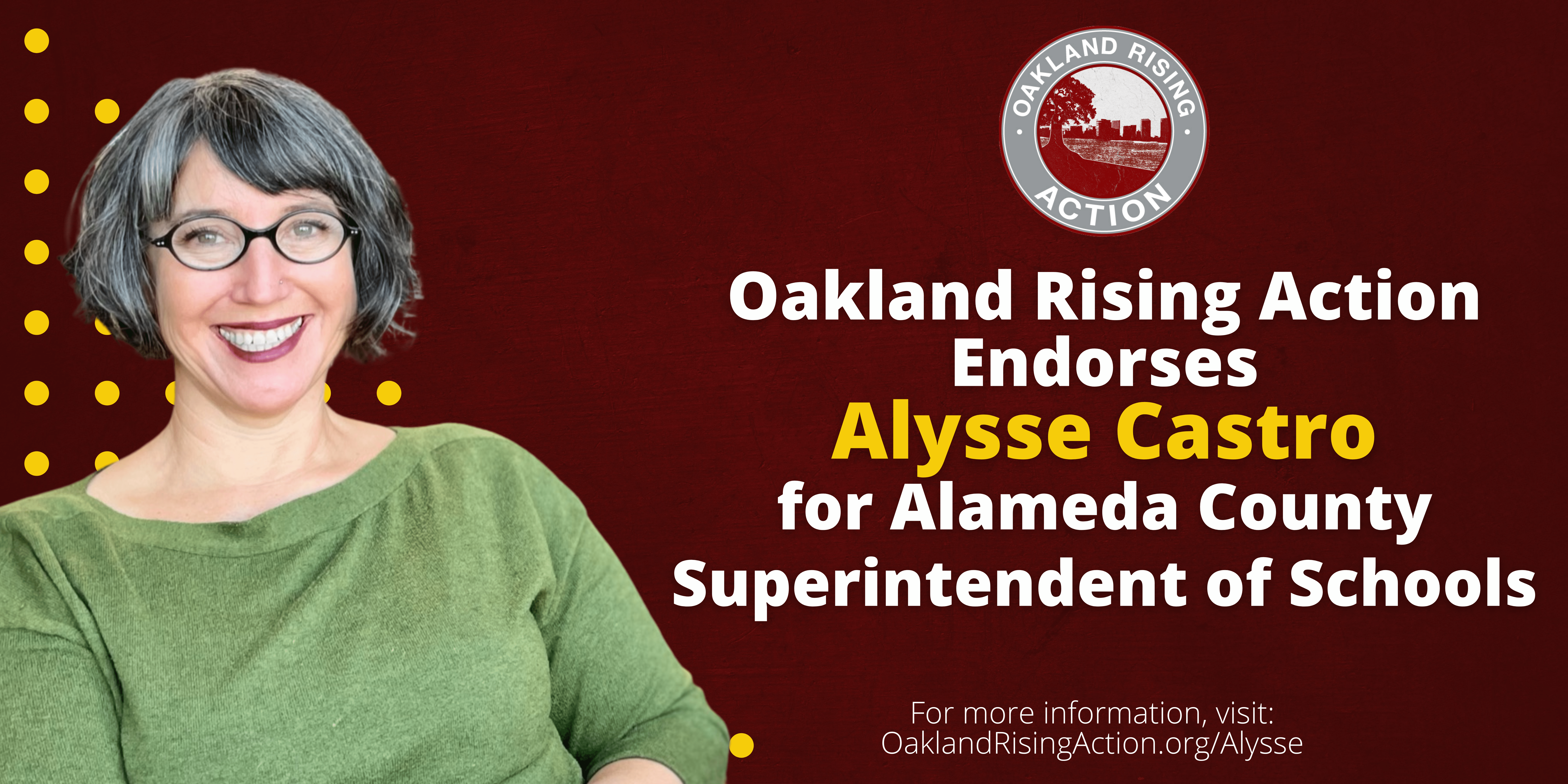 Alameda County Superintendent of Education - Alysse Castro
Alysse Castro believes that our schools are community centers where we should support whole families as well as students to fulfill their full potential. With experience in the classroom as a teacher to management experience to training experience, she understands at multiple levels how the public school system works. She has verbally committed to ending the privatization and closing of public schools that have most deeply impacted schools with majority Black and Brown students. Here's what she wrote in response to our endorsement questionnaire: "The County Superintendent holds a powerful lever to tilt public schools towards quality, equality, and justice – yet few people have even heard of this tool. Our kids – especially those furthest from opportunity – need us to use every tool to break the school-to-prison pipeline, embed systems of care in schools, and guarantee an excellent teacher and an excellent school for every kid in every community. For 25 years, I have served as a successful teacher, principal, and now the Executive Director of County Schools making schools that break the school-to-prison pipeline and change lives for kids furthest from opportunity."
Alameda County Sheriff - analysis
Safety is someone there for us when we're in crisis, food in our bellies, and a roof over our heads – not a jail cell. Let's fund real safety for our communities. We cannot in good conscience make an endorsement for the sheriff's office, because the sheriff continues to take resources from our communities to criminalize and abuse us, instead of caring for us. In this institution, reform measures need to be swift – and lean towards abolition, yet the candidates have expressed commitment to making only incremental changes. We cannot afford to maintain this system as lives are on the line. In addition, the sheriff's office, which supervises Santa Rita Jail, has looked the other way as officers repeatedly tortured and killed people they locked up in the jail. See the U.S. Department of Justice's damning report detailing the sheriff's documented human rights abuses and misconduct. The decisions coming out of the sheriff's office especially affect unincorporated communities in Alameda County, because the sheriff steps in when there is no local police patrol.  While we abstained from supporting anyone in this position, we will continue to work to shift Alameda County resources back to local public services that help community members put food on the table, stay healthy, and keep a roof over our heads – things that truly keep us safe. 
In California, you can legally register to vote up to the day of the election – meaning you can register on June 7, 2022 at your polling location and get an absentee ballot. The last day to register to receive a vote-by-mail ballot for the June Primary Election is Thursday, May 23 2022. 
Voters have until 8PM on Tuesday, June 7, 2022 to vote in the June Primary Election. 
All registered voters of Alameda County will receive their ballot by mail regardless of whether you signed up for vote-by-mail. Starting on Monday, May 9th 2022, you can cast your vote early by putting your filled out and sealed ballot in the mail or in a ballot drop-off box. 
If you are dropping off your ballot at a drop-off box, please make sure it is an official Alameda County drop box and that you drop your ballot off by 8PM on June 7. 
If you are mailing in your ballot, drop it off at the post office and make sure it is postmarked by Tuesday, June 7 (check your local USPS office to find out what time they close).
If you prefer to vote in-person, click here to find your preliminary voting location in Alameda County. Polling locations close at 8PM on June 7, and if you are in line by closing time, you are allowed to submit your ballot at the polling location. 
You can check your voter registration information online with just a few clicks. This information will determine whether you receive translated materials by mail, so double-check that your address is up-to-date and your language preference is accurate. If you need to change your address or language preference, you can simply re-register using the same link. 
Visit acvote.org for more information.
Paid for by the Oakland Rising Committee sponsored by the Center for Empower Politics. Not authorized by a candidate or a committee controlled by a candidate.