"There's an assumption that people of color, immigrant communities, formerly incarcerated people, don't care. And in fact, we care the most because we are mostly impacted by the policies that are passed." -liz suk
What's at Stake in the 2022 General Election
On the ballot this fall are seats ranging from mayor and city council, to school board and state assembly. We're excited to share our continued support of:

Pamela Price, Alameda County District Attorney Race
Alameda County's criminal justice system is broken. Currently more than 60% of charges brought against adults were non-violent, low-level offenses that could have been directed to diversion programs. A recent report from the U.S. Department of Justice study found that from 2009 to 2017, only 229 cases were prosecuted in the Behavioral Health Court in Alameda County. That is barely two cases per month every year. The status quo of the leadership in the DA's office is not working. The time for change is now.
Price knows that our current legal system is dysfunctional and that it disproportionately targets Black and Brown communities. By supporting Price, the majority of voters showed that they are tired of 'law and order' candidates, and the establishment's addiction to incarceration. Price's outspoken leadership in support of alternatives to incarceration pushed every candidate's platform to the left, resulting in more conversations about diversion programs, ending the practice of charging youth as adults, and investing in community. As we move towards the November election, we look forward to hearing about the concrete structural and policy changes Price will work with community to achieve.

Alameda County Board of Supervisors, District 3 Race
Alameda County is governed by a five-member Board of Supervisors directly elected by voters in their respective districts. The Board of Supervisors is responsible for providing policy direction, approving the County budget, and representing the County in a number of areas including its special districts. The Third Supervisorial District includes the cities of Alameda and San Leandro; a portion of the city of Oakland, including the Chinatown, San Antonio, Fruitvale and Melrose areas; the unincorporated communities of San Lorenzo and Hayward Acres; and a portion of the unincorporated community of Ashland.
There's a big opportunity on the Board of Supervisors to change how our public money is distributed: currently, they give vast amounts of funds to the sheriff to lock people up and criminalize our communities while denying funding the structures that keep us safe – healthcare, affordable housing, jobs with thriving wages, and mental health support. Kaplan is interested in changing that and has made a commitment to partnering with community on achieving these goals of community reinvestment.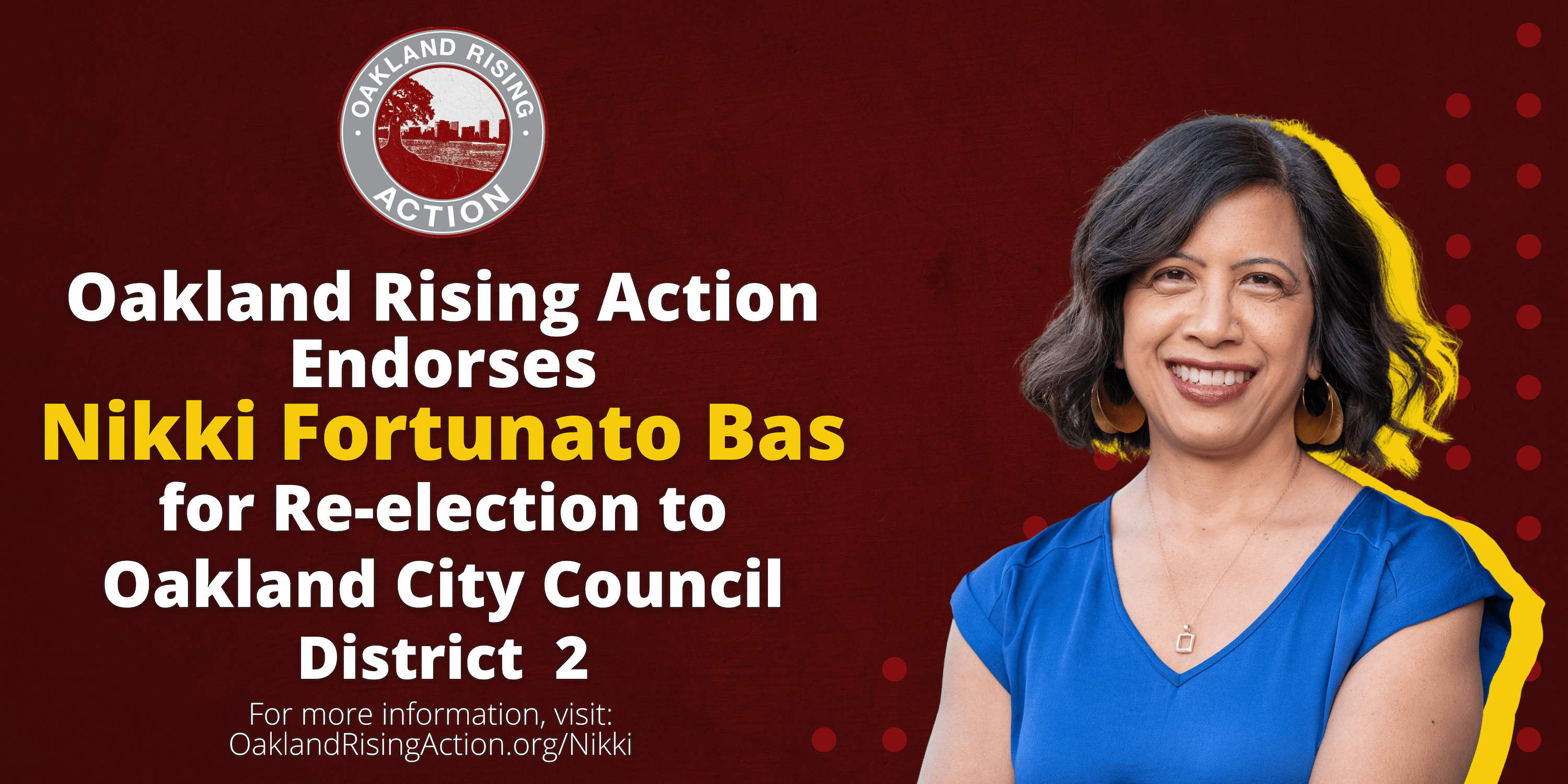 Nikki Fortunato Bas, City Council, District 2 Race
Oakland City Council sets goals and priorities for the City. The council approves the City budget, adopts ordinances to help the City serve its community members, and appoints members to various boards and commissions.
Oakland Rising Action is enthusiastic to announce our endorsement for the re-election of Nikki Fortunato Bas for the Oakland City Council in District 2. Nikki brings the expertise and experience to tackle the tough challenges that face Oakland. Nikki's vision of bold, progressive leadership that creates an Oakland for everyone is aligned with Oakland Rising Action's values. For over two decades, Nikki has been an advocate for working people, leading the passage of policies in Oakland to create the building blocks for regional, state, and national change. We believe that in this time of unprecedented housing and homelessness crisis, we deserve leaders who will courageously stand by their values and by the people of Oakland in addressing the most critical issues in Oakland. We deserve leaders who will provide efficient response to both constituent concerns and the larger systemic problems like homelessness and affordable housing – and Nikki brings a proven track record of doing so.
Oakland Mayoral Race
The mayoral race is about how and for whom power is wielded in Oakland. As the Chief Executive, the mayor has the ultimate power to set the tone and priorities of our city. Because the mayor manages departments that implement policies and services, the mayor can decide to prioritize or stall things which voters and city council pass –like protections for workers and tenants, or investments in community services and programs. The mayor also develops the city's annual budget which is our biggest policy document and a statement of our city's values. We need a mayor who is committed to real public safety that keeps all of us safe, and who will reallocate money from policing to refund our communities by investing in jobs, housing, community services, and arts and culture. This election, we can elect a mayor who encourages programs and investments that serve all Oaklanders no matter their zip code, and centers cultural, economic, physical, and social development in Oakland.
We'll be finalizing our other candidate endorsements in the coming weeks.
Ballot measures we support include:

MEASURE W: Fair Elections Oakland
We deserve a local government where candidates and elected officials can focus on what our communities need, not what big-money donors and special interests want. If we want to see change on issues like affordable housing, community safety, and quality schools, we need more transparency about the outside groups that are spending millions to influence our elections and we need a more responsive city government.
Fair Elections Oakland will change this power imbalance by creating transparency in who funds elections, equipping every Oaklander with the resources to support community-based candidates, holding government accountable, and extending the ban on lobbying by former city officials––and empowering our trusted community-led Public Ethics Commission, not City Hall, to oversee it all.
Fair Elections is the way to bring much-needed accountability to local government and make it possible for all Oaklanders to support candidates who will best represent them, no matter what neighborhood they live in, the color of their skin, or how much money they make.  This year, Oakland has an opportunity to stand up to big money and special interests, building a local government that works for all of us.
The Fair Elections Oakland Act will:

Allow community-backed candidates to run competitive campaigns without wealthy donors.
Make our elections cleaner and more transparent so that candidates can focus on the voices of the people, not the pull of big money.
Create more diversity across race, gender, and income among donors and among candidates running for office.
Boost the power of small donors. A recent survey of likely 2022 Oakland voters found that many residents don't donate to local campaigns because they simply can't afford to. In Oakland's 2014 and 2016 elections, 93% of contributions came from less than 1% of the city's population.
Fair Elections Oakland includes Oakland Rising; the American Civil Liberties Union of Northern California; Asian Americans Advancing Justice – Asian Law Caucus; Bay Rising; CA Common Cause; League of Women Voters Oakland; and MapLight. For more information, visit us at fairelectionsoakland.org.
MEASURE T: Progressive Business Tax III (also known as the Invest in Our Oakland Act)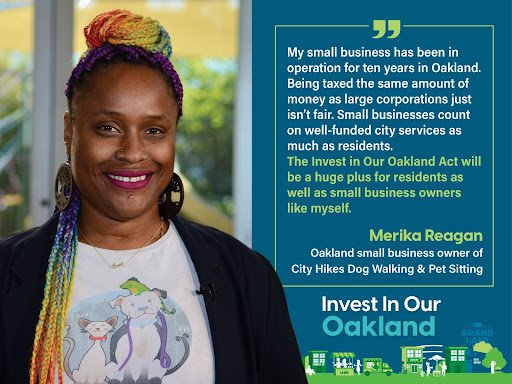 As we recover from the pandemic, our local governments must step up to provide relief for the many residents and small businesses impacted. The Invest in Our Oakland Act  modernizes Oakland's business tax model by creating an equitable tax rate according to a business' gross profit. Larger wealthy corporations will finally pay their fair share of taxes, while small and medium-sized businesses will enjoy a tax cut. This measure will generate an estimated $22 million annually for infrastructure, vital services, and programming.
This new progressive business tax will take pressure off of our 20,000+ small businesses, most of whom are owned by women and people of color. We can better invest in our communities by modernizing our business tax in Oakland without increasing the tax burden on homeowners or residents.
Oakland Rising is a member of the Invest In Our Oakland coalition which is comprised of community members, workers, small business owners, and faith leaders. Join us at investinouroakland.com
Know Your Voting Rights
Click here to learn more about your Voting Rights this 2022 General Election.